Stealth Acoustics Patio Theater, Priced $1K Per Inch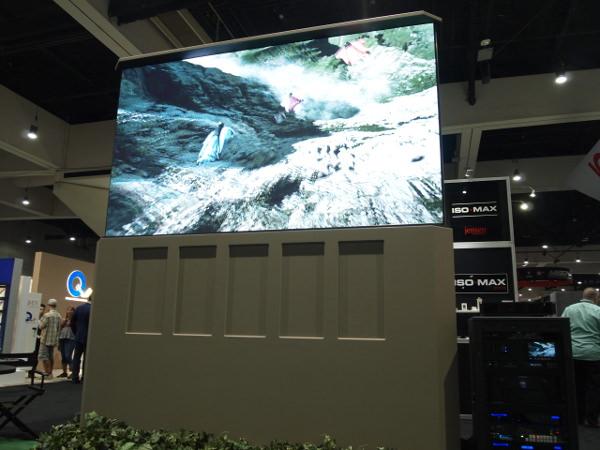 Watching the big game on a big screen is just the ticket for most sports fanatics, but what if you took it a step farther and brought, say, a 155-inch display outdoors to watch the game by the pool — in surround sound — while you're hosting a barbecue?
That's the promise of the Stealth Patio Theater by Stealth Acoustics of Mt. Vernon, Wash. The maker of in-wall invisible speakers went to CEDIA 2017 to demonstrate a 130-inch, $130,000 version of its weatherproof Patio Theater with 3,000 watts of 5.1-channel surround sound. Models are available with 103-, 130- and 155-inch screens, priced at roughly $1,000 per inch with 5.1 stealth speaker system. Add a few more dollars for a 7.1 system and subtract a few for a 2.1 system.
The centerpiece is a 16:9 direct-fire LED panel, somewhat like those used in commercial outdoor displays, with 1,800-nit peak brightness for viewing in sunlight. When not in use, the screen descends via a motorized system into what looks like a concrete wall with five rectangular recesses in front. The wall is really made of marine-grade Baltic birch wood, also used to make boats. The niches in the wall conceal the company's Stealth speakers, which are also available for indoor wall mounting in custom-installed multiroom audio systems. The speakers consist of vibrating flat panels that can be painted or wallpapered over yet deliver bass response down to as much as 40Hz in one model with a 180-degre sweet spot, the company said.
Left, right, center and two subwoofer speakers are concealed behind the niched. Stealth's weatherproof outdoor (and unconcealed) flat-panel speakers can be used for surrounds.
Stealth offers multiple finishes, but custom installers can arrange for custom finishes, including marble paint.
If the viewing angle might be too high for you, the wall can be partially buried. However, if you're sitting far enough back (at least 24 feet) to make individual pixels disappear, you might not need to hire an excavator.
The screen and speakers are driven by components in an indoor equipment rack that can be installed 100 meters or more away from the Patio Theater. The rack includes Stealth's high-current high-output amplifiers, HDMI matrix switcher and proprietary video scaler to match and video source to the screen. Installers can add their choice of surround processors and video sources. A Category 5 cable and speaker wires connect the rack to the wall.