Start Time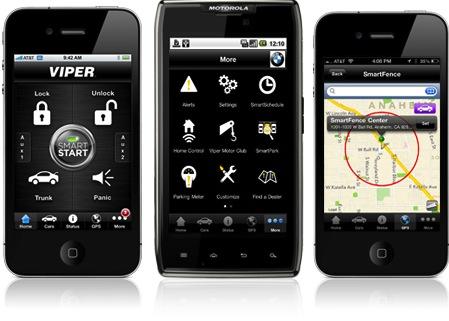 I live in Connecticut, just about 30 miles from my daily gig in New York City. That technically makes me a New Englander. I mention this because New England winters can be brutal. (I know it's still late summer, but bear with me. The weather will change soon enough.) For a guy like me who leaves for work at 4:30 a.m., early-morning temperatures can sometimes be in the single digits. That's why I've always had an automatic car starter.
I usually start my 2009 Jeep Grand Cherokee right after I get out of the shower. It's been a pretty simple operation: Be close enough to the car and have a clear sightline, hit a button on the key fob, and start it up. Then, when I'm ready to go to work, I stroll out to a nice, toasty vehicle.
In the past, I bought the starter from the manufacturer. But at CES this past January, I met with the folks from Viper who make the VSM250 SmartStart ($399). Wow, have things changed. I can still start my car from my key fob, but I can also start it from my iPhone. This is great because I no longer need to worry about proximity or line of sight. I mean, I could start my car from Los Angeles if I wanted to. (I have no idea why I'd want to do that, but it still seems cool.)
I can lock and unlock the vehicle and pop the trunk, and there's a Panic button that makes it easy to find the car in a crowded parking lot. The VSM250 has a feature called Parking Meter that initiates a timer when you pay the meter so you don't get a ticket. Smart Park notes the vehicle's location every time you press the door-lock button from the Car Control screen.
The SmartStart GPS can tell you all sorts of things you may or may not want to know. For instance, my son is a teenage driver. I have an alert set that will text me every time he goes over 70 mph. If I wanted to, I could set a Smart Fence so that I'm alerted whenever he leaves a designated zone. (I have not activated that feature, I assure you....)
You can also set an alert that lets you know if the vehicle has reached a specific location. Why? In the words of the creator who demonstrated it at CES, "so you can get an alert if your daughter goes to see her dirtbag boyfriend you told her not to see anymore." (Geez, we're getting a little Orwellian here!)
Locked out? Dead battery? Need a tow? Hello, Viper Motor Club. It's a lot like AAA, and it's included with all SmartStart Secure service plans. (I recommend that you sign up for one.)
Viper works with most smart devices, and it's simple to add multiple cars to the mix. And you can purchase add-ons like voice recognition and motion detectors. I love it whenever a company takes something I've used for years and vastly improves it. Viper has done just that with its SmartStart products.