SpeakerCraft, Niles, B&O Ready for Garden Parties
Big yards often present big problems for homeowners who want to enjoy high-quality sound throughout expansive lawns and gardens. But SpeakerCraft, Niles and Bang & Olufsen came to CEDIA 2017 to solve the problem.
SpeakerCraft and Niles, owned by Core Brands, unveiled their first 70/100-volt landscape-speaker systems to drive music into every corner of the yard. Their systems, like the distributed-sound systems used in large commercial applications such as retail stores, send music over 70/100-volt cables rather than over traditional low-voltage speaker cables, compensating for the signal loss that comes with running cables over long distances. (SpeakerCraft's speakers are pictured above.)
Bang & Olufsen took it a step farther with its upscale Terrestrial Line Array modular speaker system, which combines a 70/100-volt system with line-array drivers that project sound farther with less SPL fall-off than traditional drivers. As a result, speakers can be placed farther from listening areas and still be audible.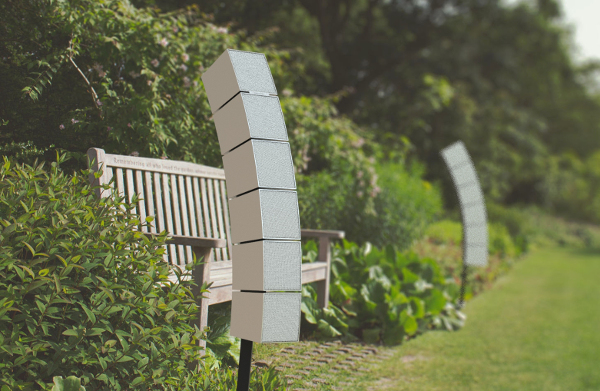 With line-array speakers, from a distance, the SPL fall-off is half that of standard speakers, said Origin Acoustics CEO Jeremy Burkhardt, whose company collaborated in the design of the speakers.
The three brands' speakers are dubbed "landscape" speaker systems because the speakers can be mounted on stakes driven into the ground for placement in more locations, where they can often be surrounded by shrubs or flowers so they're not in your face. The B&O speakers can also be attached to outside walls or hung under eaves or soffits.
The SpeakerCraft and Niles solutions are meant to be arrayed throughout the yard given their low-slung spotlight-look design and color that blends in with the landscaping. Both brands also offer companion underground subwoofers that vent sound up through a tube jutting out of the ground.
The B&O speakers take on a more sophisticated appearance that begs to be looked at. A base unit consists of two speaker modules, one on top of the other, but the base module can be expanded vertically to as many as six modules. The module array curves back.
Whether you want to look at your landscape speakers or hide them, you'll have to wait to make a decision. The B&O speakers will be available in the first quarter of 2018, and the SpeakerCraft and Niles models will be available in the spring. All will be sold through custom AV installers. Pricing hasn't been set.
SpeakerCraft and Niles already offer a selection of outdoor speakers that include rock-look speakers and speakers hidden inside outdoor planters.