Audio Powerhouse Sound United Previews Future Plans
Sound United is perhaps the closest thing we have to an audio conglomerate. Over the past few years it has gathered numerous companies under its wing. These include Denon, Marantz, Heos, Definitive Technology, Polk, Boston Acoustics, Classe and
(though certain legal niceties still remain to be completed), Pioneer, Onkyo, and Integra
. They recently held an annual dealer/rep get-together in New Orleans, inviting several members of the press as well, including yours truly.
It was a fascinating day. I wish I could discuss some of the upcoming products we were shown, but they won't be available until the fall and we were sworn (and signed) to secrecy until then. The only new products for now were two midrange AV receivers we've already covered. But a number of the yet to be launched products are certain to be of interest to readers, including new loudspeakers from Definitive Technology and Polk. The latter will be introducing a speaker featuring a technology the company hasn't marketed in roughly 20 years—updated for 2019, of course. 'Nuff said!
In case you haven't yet run the numbers, the existing and new brand acquisitions puts Sound United in the driver's seat in the AVR market. But there's still Sony, Yamaha, Anthem, Arcam, and NAD (with apologies to others that might have slipped my mind). Speakers, of course, are a very different case, as there are something like 3257 companies in the world serving that segment. That leaves Sound United with a long way to go, but I'm certain that even as we speak planning is underway in this Audio Game of Thrones.
Despite the secrecy the day included several excellent demos of current Sound United products. One of them was centered on home audio distribution, a subject not near to my heart (though it's certainly an important market). More to my interest was a home theater demo. Audio was of course the main feature there, employing multiple Definitive Technology speakers in an upward-firing Atmos configuration. The electronics were from Marantz. The video used a short-throw projector. I didn't catch the make (it looked like it might have been a Sony), but Sound United isn't involved in video — at least not yet!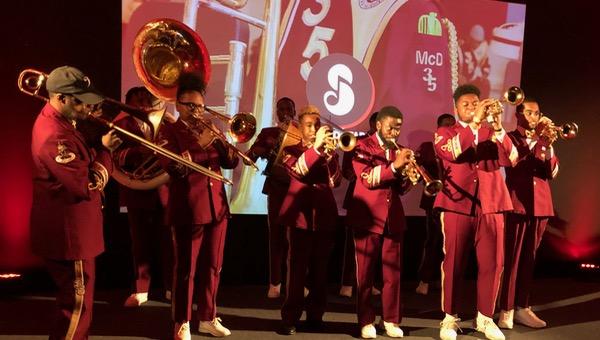 The most memorable part of the demo was an excerpt from the beginning of 10 Cloverfield Lane. The point of the selection wasn't to assault the audience, but rather to point out how important music can be to the emotional impact of a film (a point I totally agree with). There was also an excerpt from the Hans Zimmer Live in Prague concert available on Blu-ray (though the demo used a Kaleidescape movie server for some of the selections). The demo finished off with a shuttle launch from a promotion disc (likely not available commercially) for the new IMAX Enhanced home theater certification program (Sound United is a signatory to IMAX Enhanced). As with the other selections, it was played at a sensible level — loud enough to be impressive but not deafening.
Another demo squeezed three systems into one large room: a small setup with a Denon 2-channel integrated amp driving a pair of Definitive Technology D11 bookshelf speakers and a second system with a Marantz integrated amp driving a pair of Polk LSiM707 tower speakers (Polk's current premier model, likely due for a replacement as it's been in the Polk lineup for at least seven years). But the most impressive of the three demos was a system fronted by Classe electronics driving a pair of Magico tower speakers (the latter not a Sound United company), a setup that easily exceeded a six-figure price tag.
During one of several briefings that kicked off the event, Sound United discussed the Sound Start Foundation, an organization that raises money to make musical instruments and music education programs available to youngsters, many of whom would not otherwise have such an opportunity. We were also were treated to a brief concert from the local McDonogh 35 High School band (photo above). In the medium sized ballroom this unamplified group, of a type that would normally perform outdoors or in a much larger space, was LOUD. I measured a steady peak level of over 105 dB (C-weighted from my second row seat, using an SPL meter App on my smart phone). Luckily I had a pair of ear plugs with me. I hope the group didn't notice me putting them in, thinking perhaps that I didn't like what I heard. That was certainly not the case. They were superb.