SOUL Electronics: Tough Headphones for Tough Men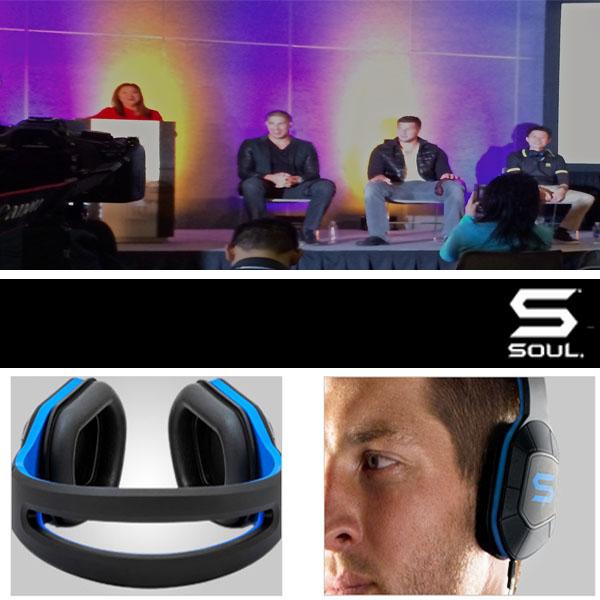 Stop me if you've heard this one: a quarterback, a UFC fighter and the CEO of an electronics company walk into a press conference. They're there to talk about the newest bluetooth sport headphones that SOUL, the headphone company in question, are releasing this spring. There's a video presentation, some polite applause, and then… things start to get awkward. Here's what we know. SOUL Electronics have three sport-related headphones on the market, One in-, one on-, and one over-ear. Each has it's own celebrity athlete associated with it, namely Tim Tebow, former quarterback of the Jets and Broncos, Brendan Schaub, MMA and UFC fighter, and Usain Bolt, world champion sprinter. Tebow and Schaub both were in attendance at the press conference to talk about their involvement with the headphone development and what makes the SOUL Combat + line different. To be fair, the concept is a good one: highly water resistant (you can rinse the in-ears under the tap) breathable and washable ear pads, durable headbands. At one point, to demonstrate the strength of the chassis, Schaub twisted the headphones around like a pretzel and then chucked them at the floor. They still worked! Tebow discussed how headphones' comfort and staying in place are very important to him when working out, and that the Combat + are great for him in real life workouts. Here's where things got awkward. Lan Kennedy Davis, who is the CEO of SOUL Electronics, started taking questions from the audience. One reporter asked this: "As ambassadors for the sport line, SOUL Electronics has three men: Bolt, Schaub, and Tebow. Are there any plans in the works to add a female athlete to the family? Are you planning on adding a women's sport headphone to the Combat + line?" Great question. Lots of companies,
Skullcandy
in particular, are looking to find ways to broaden their market to the highly important women's demographic. As a sporty woman myself, I actually see a practical need for a woman's athletic line that extends beyond colors and patterns. We have generally smaller heads, for one thing, and if you take a minute to look at SOUL's over ear Combat + headphones, you'll see that they're huge. Someone with a diminutive skull like me isn't going to be able to go for a long workout while wearing them.
Kennedy Davis answered the question this way: "We already have a broad range of ambassadors: Usain Bolt, Tim, Brendan. I think we have it all covered. And in our research, we found that women are less of a household name." Woah. Back up. Women are less of a household name? Serena and Venus Williams? Maria Sharapova? Anna Kournikova? Danica Patrick? Lindsey Vonn? Missy Franklin? Mia Hamm? Misty-May Treanor and Kerri Walsh-Jennings? None of those names ring a bell? The 2014 Olympics are on the way, with some of the best and brightest women in the world ripe for the endorsement picking. But, it seems, none of them will be stepping on the medal podium with SOUL headphones around their neck.
It's a shame, really, perhaps especially when a company has a woman as CEO. But SOUL Electronics is keeping it's evolution and innovation to slapping some bluetooth modules in their already existing sport headphones. I suppose that justifies a press conference, but personally, I was hoping for something just a little more revolutionary.