Sony Springs Into 4K
Last week Sony put on its best April clothes and entertained the foreign press in Los Angeles. Consumer electronics scribes attended from the U.K, Germany, France, the Netherlands, Denmark, Norway, Australia, New Zealand, and likely others that I (with apologies) can't recall. Only a few of local CE press were in attendance, including your humble reporter.
The main emphasis—surprise—was on 4K or, as it has been officially dubbed for the consumer market, Ultra HD. The events were spread over four days, though I was only able to attend the middle two. The first day included a tour of the Sony Studios in Culver City. Been there, done that, have the jacket—though there's always something new. The "new" this time included the rainbow shown in the top photo. As rainbows are rare in Southern California, Sony built this one. Really. The picture hasn't been Photoshopped.
Remastering Movies in 4K
The second day's events, also held at Sony Studios, were devoted to the production end of the 4K chain. To date, Sony has shot or re-mastered at least 100 movies in 4K. Lawrence of Arabia, which originated on 65mm film, was actually remastered in 8K and downrezzed to 4K for restoration work (8K workflow facilities do not yet exist).
Some TV shows are also beginning to be shot in 4K, not so much for now but to have them ready for what the CE industry hopes will be a brilliant 4K future. If only the producers of Farscape had thought ahead, even as far as 2K widescreen HDTV, when that series began shooting in the late 1990s!
Sony's latest 4K digital camera, the F65 CineAlta (4096 x 2160), was the morning's featured attraction. With 20MP of resolution, a frame rate of up to 120 per second, a color gamut claimed to be wider than print film, and memory cards that hold up to 1 terabyte (TB) of video data, this baby will cost you around $75,000. The lens shown in the accompanying photo is separate and costs more than the camera. Then there's the cart that carries both the camera and the photographer…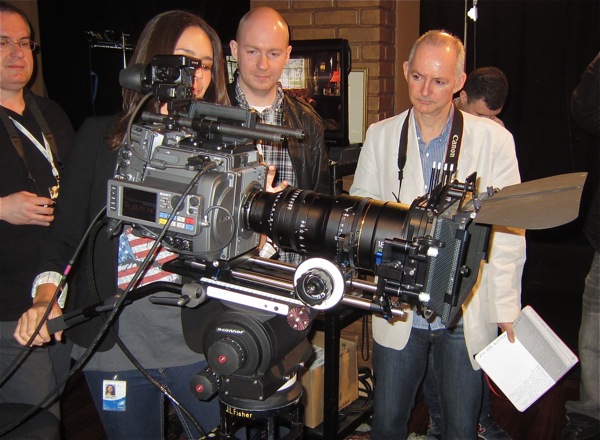 Upcoming films shot in 4K with the F65 include After Earth, Smurfs 2, and a remake of About Last Night. According to the briefings, 75% of U.S. theaters are now equipped for digital projection—and 100% in Japan and Norway. Twenty-five percent of the U.S. digital screens are using Sony's 4K digital projectors.
Later in the day we saw a fascinating demonstration of restoration, performed on films re-mastered into 4K work files. The source material in Laurence Olivier's 1955 Richard III was clearly in terrible shape, with missing frames, dust speckles, and other signs of severe deterioration. The finished version, while not perfect, was vastly improved. Those missing frames were recreated with frame interpolation—finally a good and visibly transparent use for this process! I was intrigued enough by the demo that I just ordered the film's recently-released Criterion Blu-ray. Such restorations were said to take from three to nine months. Lawrence of Arabia, samples of which were also shown, took three years!
4K at Home
The third day, held at the attendees' hotel, was the heart of the event: 4K in the home. The workshops included comparisons between the Sony and LG 84-inch 4K sets. I saw a similar comparison when I reviewed Sony's 84-incher. Both images looked excellent here, but this time the Sony was sharper while the LG's had deeper color saturation. Sony demonstrated both sets at their default Standard or Cinema modes (my notes are unclear as to which). That's the only fair way a manufacturer can do such a side-by-side shoot-out without risking accusations of favoritism, but each manufacturer has its own idea of what the optimum Standard or Cinema mode settings should be. This can significantly affect the comparison.
Later we also had a look at Sony's soon to be released 65-inch 4K model, the XBR-65X900A. Two of these sets were positioned side-by-side, one with a true 4K source, the other with the Blu-ray version upconverted by the set to 4K. The images were shockingly close—in fact, the upconverted version actually looked a hair sharper to me. This might only suggest that Sony's 4K X–Reality PRO (its video processing engine) was just a bit too aggressive. Food for thought, but there was no visible sign of enhancement in the upconverted picture.
As you may know, home 4K is actually 3840 x 2160 and the pro and theatrical variety 4096 x 2160. Home 4K has been officially designated Ultra HD, but I suspect 4K will be the most commonly used term for both the home and pro versions. When material mastered at the theatrical 4K aspect ratio of 4096 x 2160 is shown on an Ultra HD set, a sliver of information will typically be cropped from the sides. Purists might be bothered by this, but the only alternative is downscaling the 4096 source to 3840, which could have worse video consequences. Such nonlinear conversions are very difficult to do without introducing artifacts.
4K Movies…and Movies "Mastered in 4K"
But what about 4K source material? Sony is providing a 4K server to buyers of its 84-inch set ($25,000), loaded with ten movies and a number of 4K short subjects. A somewhat different server with the same material will be offered as an extra cost option (about $700) for buyers of its smaller 4K sets (the 65-incher mentioned above at $7,000 and the 55-inch XBR-55X900A at $5,000).
More significantly, perhaps, Sony will soon release a series of "Mastered in 4K" Blu-rays. These are actually 2K discs, compatible with any standard Blu-ray player and conventional HDTV. But the 4K master, even when downconverted to 2K, is said to offer a better picture than you'll get from sources mastered in 2K. Sony's 4K sets incorporate an upconversion algorithm designed to mirror as closely as possible the 2K downconversion used to master these discs, restoring much of the look of the 4K original. On a 65-inch set the similarity might be very close—as was clear from the comparisons we saw. There are variations to this algorithm in the sets—one that matches Sony's own 4K downconversion technique and more generic versions that match, though not perfectly, the downconversion techniques used on non-Sony, 4K-mastered source material (see photos below).
In addition, Sony's new, 4K sets (excluding the 84-inch model) utilize a new Triluminos color scheme said to offer a wider color gamut. However, engaging this mode on sources mastered in the standard HD Rec.709 gamut will actually distort the color. But those new "Mastered in 4K" discs will incorporate xvYCC color information. When mated to the Triluminos sets they are said to offer richer color but remain true to the source material. We look forward to reporting on this as soon as we get one of the new 4K sets and some of those special discs in for review.
Finally, Sony also showed off its new audio systems. The BDV-N7100W integrated system (a sophisticated home theater in a box) did a nice job with both music and movies, though at modest volumes. A separate surround system with the company's new ES series of high-end speakers (the L/R fronts alone go for $10,000/pair) sounded superb, driven by Sony's current top-of-the-line STR-DA5800ES AV receiver.