Sony Bows 4K Projectors, Launches Atmos/DTS:X Receiver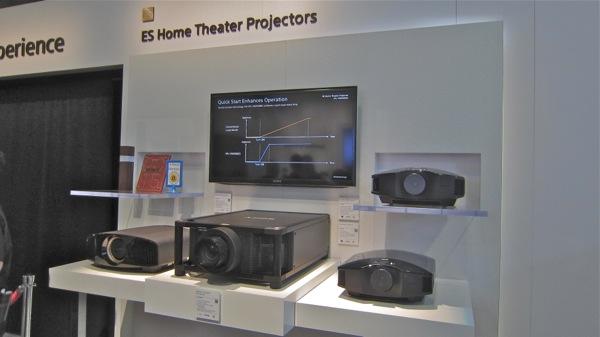 According to Sony, an expected 100,000,000 4K displays are expected to be sold worldwide by 2017. Not all of these will come from Sony, but the company certainly covets its share. And while flat screen sets will make up the bulk of these sales, CEDIA is not a show at which a mass of new flat screen sets is introduced. That's CES. The displays featured at CEDIA are invariably projectors.
And Sony showed three new 4K projectors at the show. Topping off the range is the new Sony Reference Standard 4K VPL-VW5000ES. Driven by laser illumination with a specified 5000 lumen output, and an expected laser life of 20,000 hours, it is said to offer an infinite dynamic contrast ratio, compatibility with high dynamic range (HDR) sources (and HDMI 2.0a) , full P3-DCI color, and emulation of ITU-R2020 color. The projector is liquid cooled. The only catch here is the $60,000 price, but they're sure to sell a few for upscale home theaters. An optional short throw lens is also available for this model.
One big step down from this costwise, at $14,999, and available now, is the VPL-VW665ES, offering 1800 lumens, a specified dynamic contrast ratio of 300,000:1, compatibility with HDR (and with HDMI 2.0a), lens memories, and a claimed 6000 hour lamp life. The more affordable VPL-VW365ES, at $9999, is Sony's entry level 4K projector, rated at 1500 lumens with a 6000 hour claimed lamp life, and P3 color capability, but no claim to high dynamic range. Some of Sony's current 4K models will remain in the line.
Sony also launched a new AV receiver, the STR-ZA5000ES ($2,799), Sony's first receiver with Dolby Atmos and DTS:X capability. It offers 9 channels of 130Wpc amplification, high res audio over HDMI (though I wonder why not over USB as well, though perhaps Sony's idea of high res stops at DSD on SACD discsB).
Sony's 7.1.4 press demo, which included Dolby Atmos clips) featured the VPL-VW665ES (though subsequent demos at the show are expected to use the flagship VPL-VW5000ES) together with the new receiver driving multi-subwoofered Sony ES-series loudspeakers. Both the audio and the video were superb and clearly state of the home theater art.