Sony Press Conference
By far, the most entertaining press conference of the day was presented by Sony in its massive booth at the Convention Center. The event kicked off with Sony CEO Sir Howard Stringer arriving on stage in the Black Beauty with Seth Rogan and Jay Chou, stars of the Green Hornet, which opens this weekend from Sony Pictures. According to Stringer, by March of 2011, over 50 million TVs in US homes will have access to the Internet via Sony PS3, IPTVs, and Blu-ray players, and 3D is going to be as much a part of TV as cable.
This year's TV lineup will include 27 new models with 3D and Internet access via Google TV. In addition, Sony has struck a deal with Time Warner to deliver cable programming via the Internet, so no set-top box is required. The flagship will be the HX920 series in 46- and 55-inch screen sizes, which will offer 3D capabilities and Internet connectivity in an LED-edgelit design with X-Reality Pro video engine and enhanced Motionflow frame interpolation. Also announced was the BDP-S780 3D Blu-ray player with WiFi, DLNA, and Skype.
Aside from products for 2011, Sony discussed its 3D roadmap for the longer term. For example, this head-mount unit includes two high-rez displays, one for each eye, and earphones for a completely immersive experience. Other interesting concept products on hand include three auto-stereoscopic (glasses-free 3D) flat panels—a 56-inch 4K LCD, a 46-inch 2K LCD, and a 24.5-inch 2K OLED. I got only the briefest of looks at the OLED—you have to stand in a specific spot, and the 3D effect was pretty subtle to my eyes, but I'll have to take a closer look later in the week.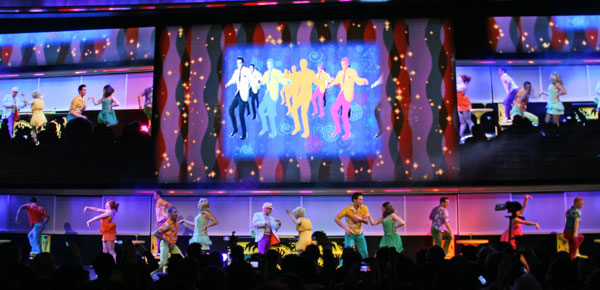 The press conference closed with Cirque du Soleil performing "Bossanova" from the new Viva Elvis show at the Aria.
In typical Cirque fashion, the acrobatics were amazing.
LATEST VIDEO