Sony PFM-50C1 plasma display
For better or worse, electronic display technology is going flat. Slowly but surely, as Asian manufacturers jettison older high-volume, low-profit picture- and projection-tube assembly lines, the venerable cathode-ray tube is being supplanted by such exotic items as Digital Light Processing (DLP), and liquid-crystal display (LCD) and plasma display panels (PDPs).
Although there are numerous ways to build a big-screen TV, many companies are currently betting on . These thin, bright, emissive panels are unique in that they combine the CRT's stimulated phosphors with LCD's fixed-pixel structure to create big, bright images with wide viewing angles, saturated colors, and high native resolutions.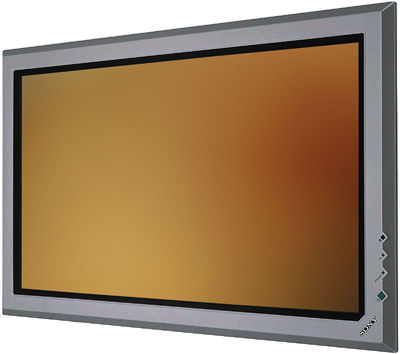 A few years back, Sony Electronics was one of the first companies to get into the plasma game, with a pair of 42-inch monitors. However, Sony had to play catch-up with the 50-inch market leaders (Panasonic, NEC, Pioneer, and Fujitsu) in order to be considered a serious player in the home-theater plasma market. The PFM-50C1 plasma monitor ($12,499) is the result.
The Same But Different
The core of the PFM-50C1 is a 1365x768-pixel plasma glass substrate that appears to have been sourced from NEC. Sony has put their distinctive mark on this product particularly with regard to the connectors and menu structure.
The PFM-50C1 carries on the minimalist design of Sony's smaller PFM-42B1 (reviewed in SGHT in September 2001) by using a thin silver bezel and placing the power indicator and the remote control's infrared sensor behind the lower right front. The optional stand (for those who choose not to use a wall mount) is a futuristic and clever design that takes a few moments to figure out, but, once assembled, has the effect of thrusting the monitor forward from the counterbalanced pedestal. You'll like it.
Connector options couldn't be simpler. On earlier models, Sony opted to eliminate a lot of the input and signal loop jacks to save space. The result is a total of exactly two inputs: one with a pair of 15-pin VGA-style connectors, used for both component-video and computer signals, and a supplied BKM-B10 plug-in card that gives you composite in/out BNC jacks and an S-video input jack.
The monitor isn't any thinner as a result, measuring 49.2 by 29.8 by 3.9 inches and weighing about 95 lbs, but the connector panel is neater and less obtrusive. The good thing is that both 15-pin input jacks are format-agnostic—you can connect just about any multiwire signal you like and the PFM-50C1 will be happy to display it after you've selected the proper signal format in the onscreen menu. All you'll need is the proper breakout cable (15-pin on one end and whatever you need to connect to your sources on the other—not provided).
Another move that Sony made to save weight and space in their 42-inch SuperSlim monitors was to do away with an onboard stereo audio amplifier. They've brought it back for the PFM-50C1. While most SGHT readers will rightly insist on pairing a $12,000 plasma screen with a full-blown surround-sound system, the 7W stereo on-board amp is there for those who might find it useful. The amp must be used with external, user-provided speakers.
Setup and Menus
In addition to cosmetic and electrical changes, Sony has changed their onscreen menus from harsh white to a softer, cleaner text field overlaid with varying levels of transparency. There's a good reason for this—the 100% white text caused image burn-in and image persistence when displayed too long. The present menu doesn't create such a problem.
Out of the box, the Sony provides two preset image modes, Standard and Dynamic, and three User settings. You also get three preset color-temperature modes. In my studio, Cool measured 8520 kelvins, Medium about 6300K, and Warm a toasty 3390K. There's also the option to save your own red, green, and blue drive settings in the three User modes. And there are 20 different picture/sync memories that you can name and save, as well as three gamma settings.
LATEST VIDEO