Sony PFM-42B1 42-Inch Plasma HD Monitor
Plasma technology is getting bigger, better, and cheaper.
Everything about flat-panel monitors is growing—from panel size to market size. A flat-panel display can utilize one of several different technologies, and Sony has chosen plasma technology for their newest flat panel, the PFM-42B1. Not too long ago, 16:9-shaped plasma displays measured only 38 inches and cost close to $18,000, but times are changing. Like all plasmas, the 42-inch PFM-42B1 is only a monitor—it has no built-in TV tuner. However, it does have one of the highest pixel counts of any plasma display on the market: 1,024 by 1,024. And, in order to get plasma technology into the home, Sony has priced this display at $7,999 for both the consumer and commercial markets.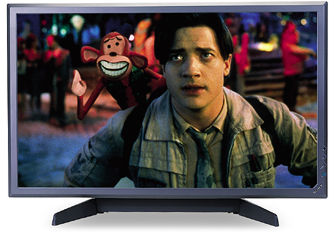 Plasma technology has some practical qualities, as well as a huge cool factor. We've all seen the ads showing a plasma mounted above a fireplace, over a bed, and just about everywhere else. You can mount these displays either horizontally or vertically for viewing video or multimedia information. Every year, plasma-panel technology improves, offering a larger pixel count and higher resolution. The current generation of plasmas even offers high-definition capability. What distinguishes one plasma display from another are its software and the implementation of the software functions. For most manufacturers, though, the technology is pretty similar. The basic plasma panel uses millions of tiny excitable, light-emitting gas particles sandwiched between electrical plates. When the plates are activated, they send a charge through the gas, which causes the particles to light up and create an image on the glass. This is why plasma panels are so delicate. You should always transport a plasma panel in its shipping crate or a specially built container. Excessive force can twist the panel, crack the glass, and result in gas leaks—a costly mistake.

Sony's SuperSlim PFM-42B1 monitor uses a high-resolution, flat AC plasma panel with a 1,024-by-1,024 pixel count. The monitor is just 3.25 inches thick and weighs 65.5 pounds, and its built-in scan converter accepts a wide range of SDTV, DTV, and HDTV signals. It offers 4:3 and 16:9 aspect ratios, picture-zoom capabilities, and dot-phase adjustment. It has a wide 160-degree viewing angle for easy viewing in a large room, as well as excellent brightness and contrast—producing sharp, detailed images with rich colors. Thanks to Sony's I/P (Interlace/ Progressive) conversion technology, this display creates clear images throughout the screen, and the glass' antireflective coating reduces light reflection in the room.
With its supplied inputs for composite, S-video, and RGB/component signals, the PFM-42B1 can display signals from a wide variety of video sources—from standard video to HDTV and DTV, as well as computer signals up to UXGA. The panel has selectable aspect ratios such as 16:9, wide-zoom, letterbox, and standard 4:3. The built-in high-performance scan converter provides exact pixel sampling from the original input source, which results in high-quality image reproduction. Sony uses automatic dot-phase adjustment to fine-tune the picture for PC and video-game use. For those who care about such things, the pixels are oblong in shape, measuring 0.90 by 0.51 millimeters.
The monitor's side panel offers a full complement of very simple connections. Inputs 1 and 2 are D-Sub 15-pin connectors, both of which will accept UXGA, 10-bit RGB, and YUV component video signals. The PFM-42B1 accepts 1080/ 24PsF, 1080/50i, 575/50p, 480/60p, 1080/60i, and 720/60p digital signals. Both inputs will accept computer scan frequencies from 15.6 to 100 kilohertz horizontally and 50 to 120 hertz vertically. The sampling rate is from 31.5 kHz to 140 megahertz. The PFM-42B1's color space is 16.8 million colors simultaneously—which is to say that this panel can display just about any image you can come up with. There's also one S-video input and a BNC connector for composite sources. One BNC output carries a composite signal. Each input has a companion left/right audio signal carried on a stereo mini-jack. The RS-232 port on the side-input interface is great if you have a home-automation or other computer-controlled system. If you utilize this port, you won't need to use the remote or onscreen menu; just access the functions from the computer control box or master automation system.
LATEST VIDEO