Sony Flagship Soundbar Features Atmos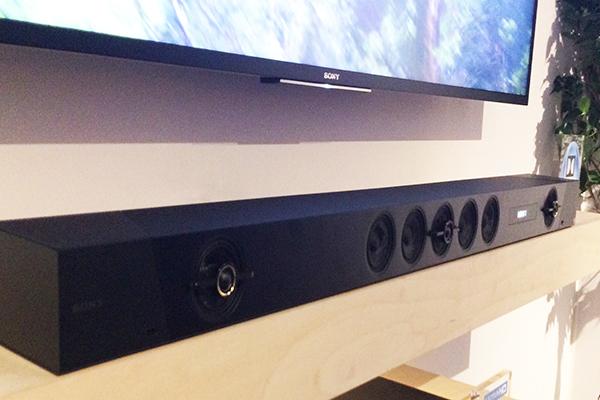 Sony upped its soundbar game at CES with introduction of a new flagship model featuring Dolby Atmos capability, while also announcing a new mid-priced AVR.
The HT-ST5000 soundbar (shown in photo) offers 7.1.2 channels, with the ".2" signifying two upfiring drivers that use Dolby Atmos to bounce height effects off the ceiling, and an outboard subwoofer with a foward firing woofer and a passive radiator (driver size not immediately available). DTS:X will be upgradeable through a future firmware update. The system features three HDMI inputs and one HDMI out (with ARC) and supports pass through of 4K HDR content. Additional connnections include digital optical, analog stereo, USB, and Bluetooth with NFC pairing.
Additionally, the HT-ST5000 handles Hi-Res Audio files, and works with Google Home, a voice-activated speaker powered by Google Assistant. It allows adjustent of volume or track-skipping by voice command. The HT-ST5000 will be released sometime in 2017 at a price that has not been announced.
Meanwhile, Sony also introduced the STR-DN1080 audio/video receiver. Although pricing was not announced, this AVR scheduled for spring 2017 delivery will presumably become the latest update to a popular series of high-value AVR models Sony has now maintined for several years around $600 list. The 7.1-channel unit supports Dolby Atmos up to 5.1.2 channels, but can actually mimic the effects of a 7.1.2 system using Sony's Phantom Surround Back technology. 4K pass through is also supported along with high-res audio (including DSD native playback). Chromecast, Spotfy Connect, and wireless multiroom audio capabilities are also on board.