SONTE Film is the James Bond Way to Window Treatments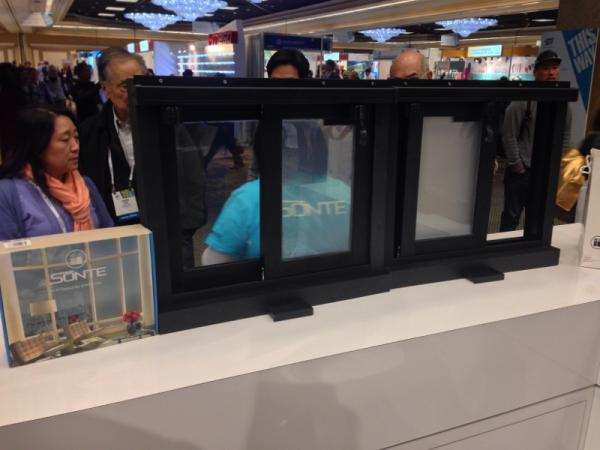 Traditional window treatments – blinds, drapes, curtains – may give you some privacy and block the sun, but they really aren't that cool. Motorized options from the likes of Lutron and Hunter Douglas certainly raise the high-tech bar and add some remote control capabilities, but even they look like old news when you watch SONTE Film in action.
SONTE Film, or Digital Shade, is "a technology that allows the color of the film to go from transparent to non-transparent." It is a film that you can apply yourself to virtually any existing window, and then when an electrical charge is applied to the film, it adjusts the amount of light traveling through it, providing varying degrees of privacy or room darkening.
At CES, SONTE Film was demonstrating the first ever WiFi enabled digital shade that switches windows from opaque to clear in about a second. The app not only allows for privacy and light blocking, but offers UV and infrared protection from the sun. The app can connect to an unlimited number of windows, and the windows can be even grouped into zones or areas. The app also allows users to set timers to "open" and "close" the film automatically during different parts of the day. SONTE Film CEO, Bernard Kwan, told me the company is looking to design a Z-Wave gateway that will interface with more advanced automation systems.
A DIY kit including the hub, cabling, and film is coming in Q1 with an anticipated price of $450-500. The kit will include a square meter of the film.