Sonance Unveils In-Ceiling Sub/Sat Speaker System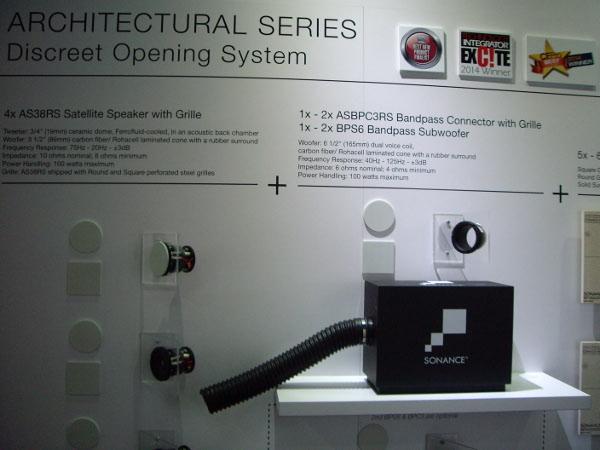 Sonance has set out to change the way installers think about in-ceiling speakers with the new Discreet Opening System it introduced at CEDIA 2014. "We're trying to get our dealers to think more about in-ceiling speaker systems for music instead of just pairs of speakers," explained Jay Lazzaro, director of sales.
Two configurations are available: 2.1 stereo plus one subwoofer ($3,800) or 2.2 stereo plus two subwoofers ($5,000). Each system includes four two-way AS38RS-2 satellites, featuring high power handling capability and high sensitivity, plus one or two BPS6 Bandspass Subwoofers—a rectangular enclosure with a flexible tube that ports bass through the ceiling; the enclosure attaches to ceiling joists.
Designed to match small-aperture downlights, the satellite combines a 4-inch carbon-fiber woofer with a ceramic dome tweeter and is available in a round or square configuration. "It delivers a ton of output from a very small footprint," Lazzaro said.
Once the satellites and subwoofer vent are installed, they are covered by paintable grilles that mount flush with the ceiling for a clean, trim-less look.
A higher output AS68RS 6.5-inch satellite and BPS8 subwoofer are available for use in rooms with high ceilings or where higher volume levels are desired.
Sonance sister company iPort introduced a new version of its wall-mountable LaunchPort iPad Sleeve that has five customizable "instant buttons" on the right side of the frame; the buttons can be assigned to control things like motorized shades or music playback functions such as play, pause, fast forward, etc.