Soledge Brings the Sexy Back to Music Servers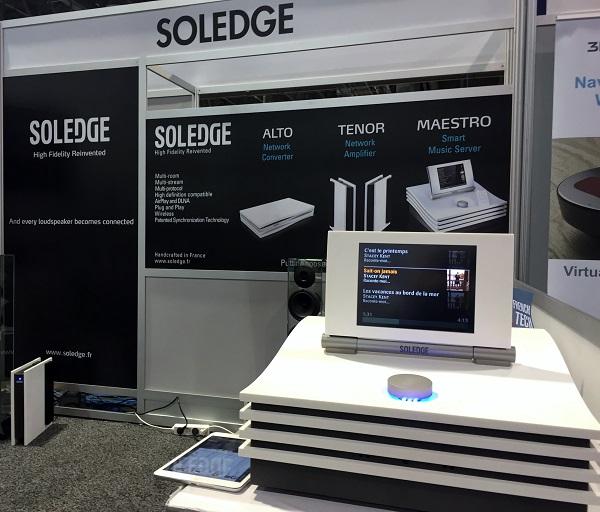 If beauty is only skin deep, it runs awful thick in the new Soledge Canto range of wireless audio components. All of the components are covered in a thick layer of eye-catching, bright white Corian, making for stunning components that look every bit as beautiful as they sound. I couldn't resist running my hands across the tops of the components, reveling in the feel of ultra-high-end build quality.
The heart of the Canto line-up is the Maestro music server ($18,000) which features a smooth, top-mounted rotary knob for adjusting volume and an integrated touchscreen for selecting music and creating playlists. The Maestro also includes a proximity sensor that automatically raises and lowers the touchscreen to allow control as you approach it. A stealthy built-in CD drive plays or rips discs to the internal 2 Terabyte drive and it also features AirPlay and DLNA so it can reach out to the home's network and find music files in WAV, FLAC, Apple Lossless, OGG, WMA, AAC, MP3 and AIFF up to 24/192 resolutions.
The Tenor amplifier is offered in two models, a single power stage (60-watts/8-ohms, $7,100) or a dual power stage (2 x 60/8-ohms, or 200-watts bridged, $8,300). The amplifiers also feature AirPlay and DLNA meaning they can connect directly to speakers and stream all of the same file formats and resolutions as Maestro, providing a high-end solution in little space.
The Alto ($6,000) is a network player that rounds out the Canto range, and includes optical and coaxial digital and fixed and variable RCA analog outputs, perfect for connecting to an existing pre-amp or amplifier system. Like the Maestro and Tenor, Alto features both AirPlay and DLNA.
The Canto's other big trick is the inclusion of HomePlug AV tech, meaning it can stream signals and communicate over a home's power lines. At CES they demonstrated streaming music with nothing plugged in but power cabling. The entire system can also be controlled via the Soledge control app.