From Smug to Snug: VR for the Rest of Us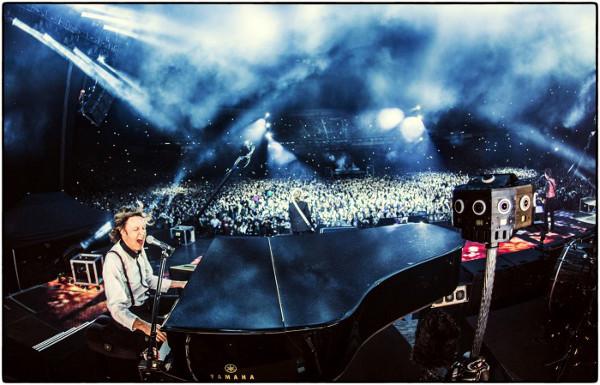 Paul McCartney and Candlestick Park are more likely to be linked to endings (the last Beatles concert, 1966; the last big gig at the Stick, 2014) than new beginnings. But thanks to an innovative app that incorporates a 360-degree perspective from the stage of McCartney's performance of "Live and Let Die" at the San Francisco ballpark, the man and place will now be coupled to the birth of an exciting way for everybody to enjoy music like never before.
Simply called Paul McCartney, the free app available on Google Play from Jaunt, Inc., allows you to use a modest headset to wander the stage, look down at the audience, look up at the lights, gaze at band members, see the pyrotechnics, or scrutinize Sir Paul at the piano.
By the way, the experience is not meant for viewing on a television or computer. With the smartphone absorbing the functions of so many dedicated devices—cellular phone, music player, video player, camera, camcorder, voice recorder, map navigator, and portable gaming device—it should come as no surprise that it's also a virtual-reality (VR) headset.
What's remarkable about the phone's entry into VR is that its screen, accelerometer, and gyroscope replace the most expensive components of a head-mounted display. Download one of the growing number of free or paid apps, and place the phone in a tab-to-slot box made largely of corrugated paper called Google Cardboard.
Peer into the box's stereoscopic lenses and turn your head every which way. The effect is astounding. The 360-degree view is not unlike what Linda Blair would have seen as she surveyed her bedroom in The Exorcist. Objects appear to have depth, an illusion created by the app's split screen seen through lenses that anyone who has ever held a View Master toy will instantly recognize. But this is a View Master with sound and motion. The app's performance was latency free, and though I was disoriented at times, I felt none of the nausea sometimes associated with virtual reality.
Cardboard comes on the heels of Google's withdrawal of Google Glass, the company's enhanced-reality eyewear. The $1,500 frame, which contained a tiny connected computer display and camera, was offered to invited geeks who were quickly dismissed by others as glass-holes. Google has taken the opposite tack with Cardboard, whose homey name suggests a device affordable by anyone and whose main requirement is already in your pocket.
Demo apps include rotating objects as if they were in your hand, chasing a hat in the wind, touring the Palace of Versailles, and appraising a wall of TVs showing different YouTube videos. Exploiting the magnetometer in the phone, you flick a magnet controller along Cardboard's edge to make a selection.
With the phone perched inches from your eyes, the display captures your peripheral vision as if you were seated in front of a big screen. An important distinction from traditional home theater is that the picture doesn't end at the TV's bezel. You need to be looking everywhere to see the entire show. My most important accessory was a swiveling desk chair. You'll want to watch the performance more than once since what you see as McCartney sings "this ever-changing world in which we're living" depends entirely on where you're looking at the time.
If you plan to use your phone's built-in speaker, make sure to turn up the volume before you enclose it in Cardboard. For superior sound and its own volume control, use a Bluetooth speaker. But the best way to experience Paul McCartney is private listening. Cardboard accommodated my wired stereo headphones, delivering audio that was louder as I looked at the band than when I turned to the audience. Better still were a pair of Bluetooth headphones that beyond being wireless had their own volume controls. Still, the app doesn't approach the audio sophistication of a demo I once experienced where I donned a dedicated headset and "walked" between musicians to lean into the sound of each instrument.
Being nearsighted, I found the viewing better without glasses. The picture resolution is dependent on your phone's screen. I used a Moto X with a 4.5-inch display that easily fit into Cardboard once I took off a thick protective case. By showing two fields of the image side by side to create the passive 3D effect, resolution is sacrificed. The overall effect is worth it, but it would seem the perfect opportunity for a developer to take advantage of the higher-resolution Retina Display available on newer Apple iPhones.
According to a Google spokesman, "There are a number of apps in the Apple Apps Store that can unofficially work with a Cardboard viewer. However, the Cardboard SDK [Software Developer's Kit] does not yet officially support iOS."
In the app, the voice of the 72-year-old McCartney didn't soar like the Wings of 1973. And the explosive light show seemed a little too close for comfort. Still, he was in better form than his subsequent appearance on the Saturday Night Live 40th Anniversary Special.
So, how cool is gazing into a cardboard box? Let me count the ways. You can get Google Cardboard here.