Smart Gifts for Smart People with Smart Homes
The so-called "smart home" has had a sleepy, low-key year in 2016 as it recovered from several years of over promising and under delivering. The fact is, though, that there are plenty of stellar smart devices on the market. Many of these gadgets can be incorporated into a whole-house automation system or used solo as one of the many parts found in a "clever home". Here are some of the devices that have "I Want" written all over them.
Talk is cheap; and when it comes to voice recognition and control, the devices are getting cheaper, too. The $129 Google Home voice-activated speaker with Google Assistant is available now; but, as yet, it's no match for Amazon's mighty range of Alexa-enabled devices. If you're not familiar with Amazon's Alexa voice control service, you need to be because it's amazing at what it does, at how well it does it, and at how much it can do when it comes to controlling smart devices (e.g., lights, thermostats, multi-room music systems, and much more) and performing as a virtual personal assistant. It's even more amazing when you consider the awesome automation power you get when you integrate an Alexa-enabled product with any of the wide variety of smart devices it's compatible with.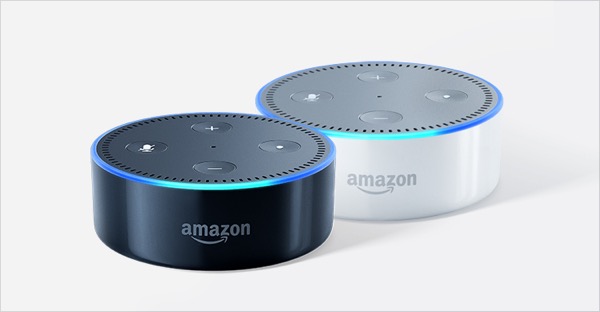 Amazon introduced the second-generation version of these talking hockey pucks shortly before CEDIA 2016, and they were one of the hits of the show. The Echo Dot's normal price of $49.99 is just stupid cheap for a voice-control device. It's well worth it even if all you do is use it to provide information from the web or stream music from Amazon Music, Spotify, Pandora, iHeartRadio, or TuneIn. The Echo Dot's internal speaker, unlike the excellent speakers built into the larger Amazon Echo and Amazon Tap models, is fine for voice feedback but crappy for music. The little gadget (available in black or white), however, can connect to external speakers via Bluetooth or its 3.5 mm stereo jack output. "For a limited time," Amazon is selling the Echo Dots for $39.99 each.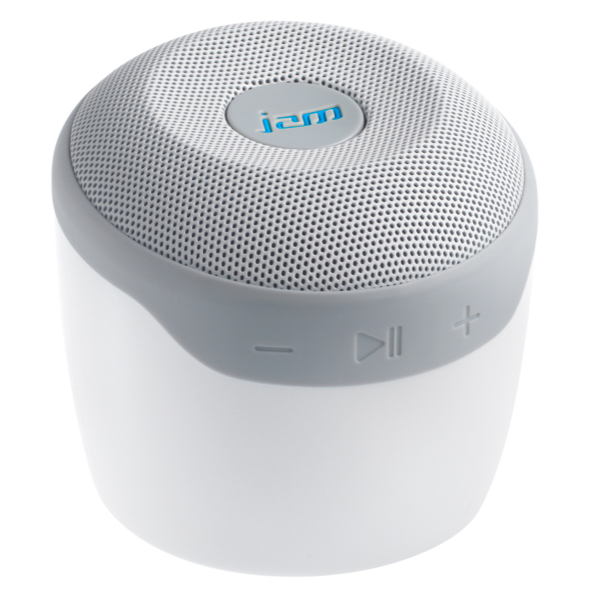 Speaking of talking speakers, Jam Audio's Jam Voice portable Wi-Fi and Bluetooth speaker includes integration with Alexa. For $79.99, the Jam Voice is a feature-packed portable speaker that's about the same width but half the height of a small cup of coffee from a well-known coffee chain that makes you say the drink size in Italian. In addition to the Alexa integration (along with the associated Amazon Music, Audible, TuneIn, iHeartRadio, Spotify, TIDAL, and Napster streaming capabilities), the Jam Voice supports AirPlay, DLNA, Spotify Connect, and QPlay. It can be linked with up to 11 other compatible Jam Audio speakers for multiroom music. Not too shabby for 80 bucks.
For a little bit more—okay, for quite a bit more—you can take Alexa with you on your wrist. At $279, the silver iMCO CoWatch with Amazon Alexa is said to be "the world's first Amazon Alexa-enabled smartwatch." (If you don't like silver, the black version is available for $20 more.) It's compatible with both iPhone and Android smartphones, sports a 400x400 pixel AMOLED full-circle touch-screen display, is water-resistant, and includes a heart-rate sensor (among other sensors) along with 8 GB of flash memory storage—"the highest capacity in the smartwatch market." The iMCO CoWatch gets mixed reviews from customers on Amazon (3 out of 5 stars), so it's worth checking out what previous owners have to say to see if the CoWatch is right for you.
Alexa isn't the only voice box in town when it comes to automation and virtual assistance. Soundcast's new VG1 is a stunner of a portable, waterproof, highly portable speaker that works as a hands-free Bluetooth speakerphone. It also allows you to communicate and issue commands with Apple's Siri (via an iOS device). I've tested a Soundcast VG1 for a couple of weeks now, and I'm thoroughly impressed with its sound quality and durability. (I dropped it in the shower the other day. It sputtered water out the front and rear grilles for a brief period of time, but once it dried out it was totally like new…except for a mark or three on the rubberized bumpers.) At $149.99, the Soundcast VG1 is almost twice the price of the Jam Audio speaker; and, of course, it doesn't include Alexa integration. But it does have the ability to stream high-def audio via Bluetooth with aptX and AAC. (In other words, the sound quality upgrade is worth the extra bucks.) Soundcast also claims the internal, rechargeable, lithium-ion battery is good for up to 15 hours of playback time.

If you're not the talkative type, Scenic's Nuimo is a reddot award 2016 winning, beautifully designed (in Germany), wireless smart home controller (coincidentally also hockey-puck shaped) that's so smooth in the way it operates it's difficult not to sit there with it on your desk or nightstand and spin the glass bead-blasted aluminum outer ring for hours on end. What does it do? A lot, and it all depends upon you. You decide whether you want the Nuimo to control your Sonos speakers, your Hue or LiFX lights, Google Cast, or even certain OSX applications (such as Photoshop). Seeing the pictures, you might think that the $199 price is a little steep for a Bluetooth-enabled wireless controller. On the contrary, the flexibility of the Nuimo's programming, the Senic team's continual enhancement of Nuimo's feature set, and the sheer brilliance of the product's design make it seem like they've priced it too cheap. (Can you tell I like the Nuimo? Sorry to be so obvious…)
Cleanliness is Next to Robotliness
Surprisingly, cleaning robots aren't the first thing most people think of when they contemplate home automation. Of course, not all that many people sit around contemplating home automation; but even so, I'm always amazed at how "on the fringe" robot vacuum cleaners and mopping robots are in the minds of the general public. Cost is obviously a big impediment—although prices on some robot vacs are pretty affordable. The other negative about cleaning robots is that the hype vs. reality ratio is still (like the cost) too high. These semi-autonomous utility robots aren't perfect. They can't handle every situation or contingency. They don't get your floors 100% clean. And they require regular attention, such as emptying the dirt bin or changing the mop pad. But they're great for daily or quickie cleanups that will help reduce the number of times you have to do the bigger cleaning jobs around the house. (In my case, I'm mopping the hallway and vacuuming the kitchen right now as I write this blog. Well, technically, I'm not doing the cleaning. The robots are. And I'd kiss them if they weren't so filthy.) A word of warning, though. Be sure to warn your gift recipient of the one truly catastrophic potential problem with robot vacuums that can be programmed to operate independently on a daily schedule: the personal "poopocalypse" that occurs if your dog has an accident on the floor or carpet and your robot vacuum finds it before you do. As I know from personal experience, it's amazing how far dog diarrhea can be spread throughout your house.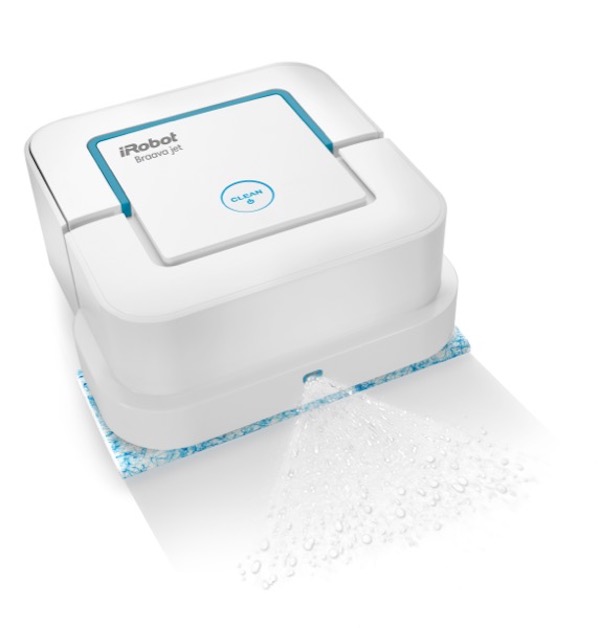 In addition to a full lineup of Roomba series robot vacuums, iRobot makes two mopping robots. I have the iRobot Braava 380t, and I like it a lot. But I'd also love to have iRobot's smaller, less-expensive mopping robot, the Braava jet 240, to use in smaller rooms, such as the bathrooms and kitchen. The Braava jet 240 has a built-in Precision Jet Spray that shoots cleaning fluid on the floor in front of the robot as it cleans, plus a vibrating cleaning head that kind of mimics the way you'd go about scrubbing dog poop off the floor. The Braava jet 240's smaller size allows it to clean parts of the floor the larger Braava 380t can't, and it can be used on hardwood, tile, stone, and other well-sealed flooring materials. MSRPs for the Braava 380t and Braava jet 240 are $299 and $199, respectively. I have no doubt there'll be decent sale prices on each model from now until the end of the year.
Other Smart Gifts for Smart People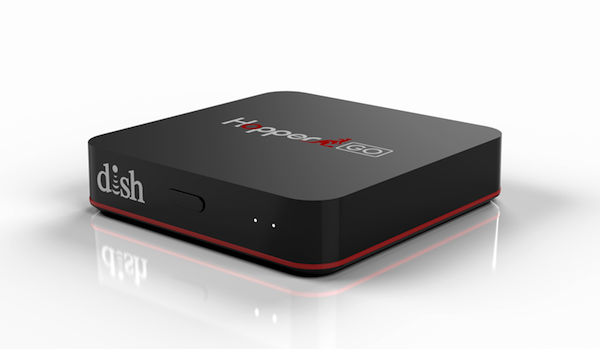 Technically it's not a smart home device, but it's still a smart thing to give a person (or yourself) who is a DISH Hopper 2 or Hopper 3 owner. The DISH HopperGO is a tiny moving movie machine that can store up to 100 hours of recorded content (transferred from your Hopper 2 or Hopper 3). It creates its own private wireless cloud and works up to four hours on a single charge of its built-in rechargeable battery, so it's perfect for anyone who travels with children—especially on long car rides. Normally the HopperGO is $99 (which is still a good deal), but if you're not already a DISH subscriber, you can get a free HopperGO from DISH when you sign up for service between now and December 11 with a Hopper 2 or Hopper 3. You can really make a TV-lover's holiday by ordering a Hopper 3, get a free HopperGO, and pay for a year's worth of DISH's Flex Pack—at $34.99/month, that's less than $420, with a free HopperGO thrown in.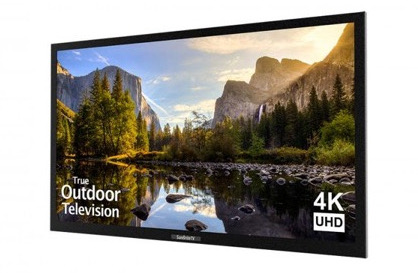 And, I suppose, while you're being generous with the TV gift giving, you should also consider one of SunBriteTV's new, extremely affordable, outdoor, weather-resistant Veranda Series 4K UHD televisions. The new 43" SB-4374UHD is designed for full-shade outdoor spaces. The picture isn't the only thing that's stunning about this TV, though. The sticker price of $1,499 is unbelievably low for an outdoor TV. You might even be able to afford a wall mount to go with it. (All right, I know, let's not get crazy.)
No matter what you decide to give (or receive) have a happy holiday season.