Smart Gifts for Smart Homes and Secure Apartments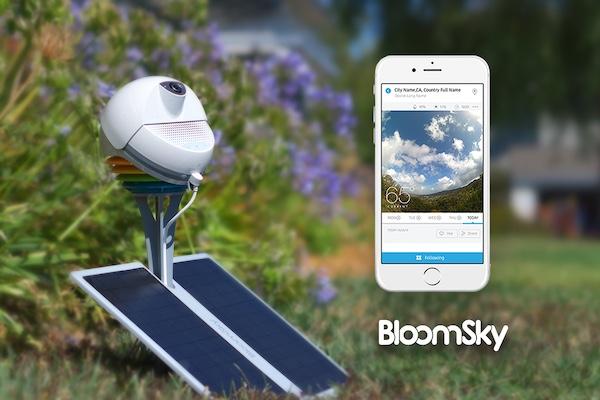 If you were one of the 151 million+ people who shopped over the Thanksgiving/Cyber never-ending week, congratulations for being a deal-devouring devotee of discounts. Regardless, I'll bet there's at least one person who still hasn't been checked off of your gift list. If your special someone lives in a home, apartment, dorm room, or parents' basement, why not consider something that'll make their home life (such as it is) a little smarter?
We Want Mo' WeMo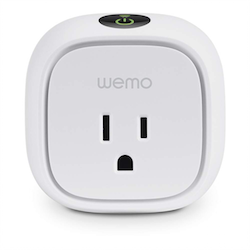 Smart homes can be filled with a hodgepodge of different brands of devices using different protocols and requiring a juggling of apps to run everything. Or they can be built from a selection of devices from the same manufacturer using a single app. Belkin's WeMo family of smart devices is an example of the latter approach. You can start someone on their smart home upgrade path with a single $49 WeMo Insight Switch that'll let the owner set up rules for on/off times, as well as monitor energy usage. (If you're on a slightly tighter budget, there's also a less-insightful version, the WeMo Switch, for ten bucks less that doesn't offer the energy usage feature.)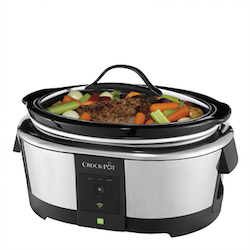 That's just the beginning, though. WeMo's line of smart devices extends from things as simple as the Insight Switch to more elaborate gadgets, such as the $130 Crock-Pot Smart Slow Cooker with WeMo, the $150 Mr. Coffee 10-Cup Smart Optimal Brew Coffeemaker with WeMo, the $150 Holmes Large Room Smart Heater with WeMo, and (my personal favorite), the $200 Holmes Smart Humidifier With WeMo. WeMo's awesomeness doesn't end there, however. In addition to Mr. Coffee and Holmes, WeMo currently has partnerships with Osram, Cree, TCP, IFTTT, and Amazon Echo.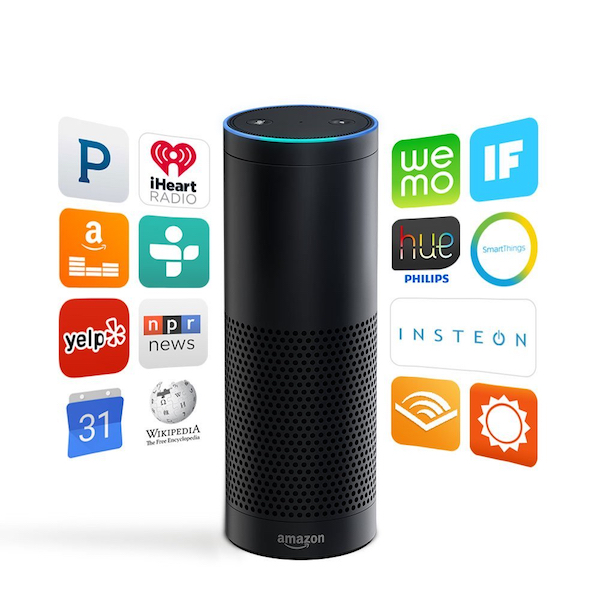 The $179 Amazon Echo that I just mentioned, by the way, is an awesome smart home beginner's (or old-timer's) gift. You could ask, "What can an Amazon Echo do?"—but it'd almost be easier to answer the question, "What doesn't the Amazon Echo do?" Essentially, Amazon Echo is a black cylinder with both Wi-Fi and Bluetooth connectivity that uses cloud-based voice-recognition to become a hands-free helper that can answer questions and interact with Belkin WeMo, Philips Hue, SmartThings, and Insteon devices. The list is growing, too, including IFTTT integration, which dramatically adds to the scope of the Echo's capabilities. Think of it as Siri-in-a-cylinder or Google—Now-in-a-can. One big advantage that Echo has is that Alexa—the brain behind everything—is in the cloud. So it can get instant upgrades without any effort on your part. But that can be a major drawback for some, since Echo won't do any of its voice-recognition magic when your internet connection is down.
Did I mention that Echo is also a kick-butt Bluetooth speaker with a 2.5-inch woofer and 2-inch tweeter (both firing downward) in a ported cabinet, and it generates 360-degree omni-directional sound? Multiple music services—Amazon Music, Prime Music, Pandora, iHeartRadio, and TuneIn—is built-in; and if your internet connection suddenly go haywire, you can stream audio from your phone.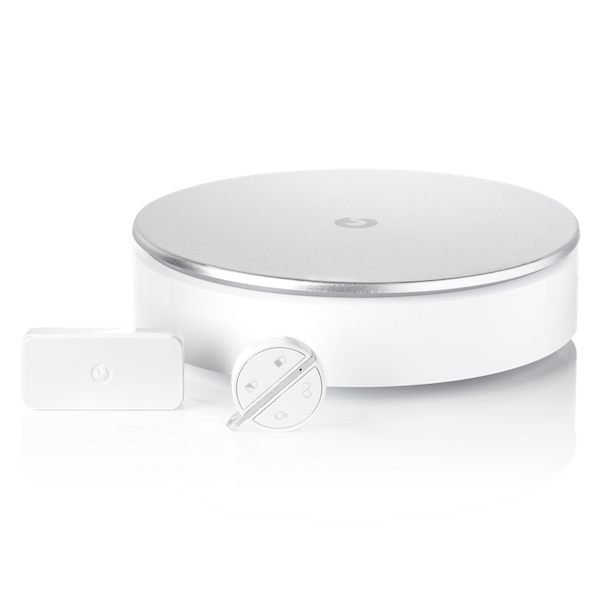 A Security System To Secure Those Gifts
Security is one of the most popular aspects of a smart home; and, as I mentioned above, it can be done piece-by-piece or all from one company. MyFox claims the company's cleverly named Home Alarm is "the only alarm system that alerts you BEFORE a break-in occurs." Unique to MyFox's system is the IntelliTAG sensor that, when placed on a door or window, is "smart enough to tell the difference between ordinary events and potential threats" by sensing "the unique vibrations of a break-in attempt" so it can sound the alarm "BEFORE an intruder can get inside." The basic MyFox Home Alarm package is $249 and comes with the MyFox Home Alarm Hub plus one IntelliTAG sensor and one Key fob. The system immediately "recognizes" users carrying a Key fob and will automatically disarm the alarm when a Key fob is detected. That means you're not required to load an app on your phone, find the remote in your pocket, or punch a code into a keypad in order to disarm the alarm when you come home. Very nice.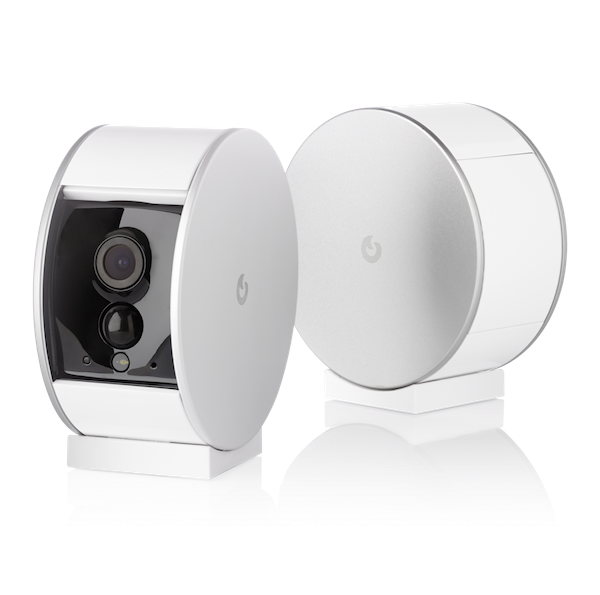 I've been using MyFox's other main product, the even-less-creatively named Security Camera ($179) for a month or so. MyFox says it's "the only smart home security camera that protects your home and your privacy." You can monitor the camera via an iOS or Android app, and unit contains a built-in microphone and speaker for two-way communication. (Yelling at the cats to get off the kitchen counter isn't really two-way communication, though.) The camera offers 720p HD video with a 130-degree wide viewing angle and has night vision capability. Initially setting up the Security Camera on your home's Wi-Fi network is extremely simple thanks to a QR code containing your Wi-Fi network's connection settings which is generated within the app and then scanned by the Security Camera. Unlike other home security cameras, the MyFox Security Camera has a shutter door that completely covers the lens when it has been turned off. The shutter is the part that protects "your privacy." The app lets you open and close the shutter at any time (from anywhere), and MyFox's IFTTT integration allows you to create an IFTTT recipe that will make the shutter automatically close any time it senses that your phone is at home. There's a built-in battery and internal recording storage in case of a power outage, too. The MyFox security camera can be used without a subscription, but MyFox will record and save up to seven continuous days of video on the company's servers. Access to a 1-day video history is $4.99/month and access to a running 7-day history is $9.99/month.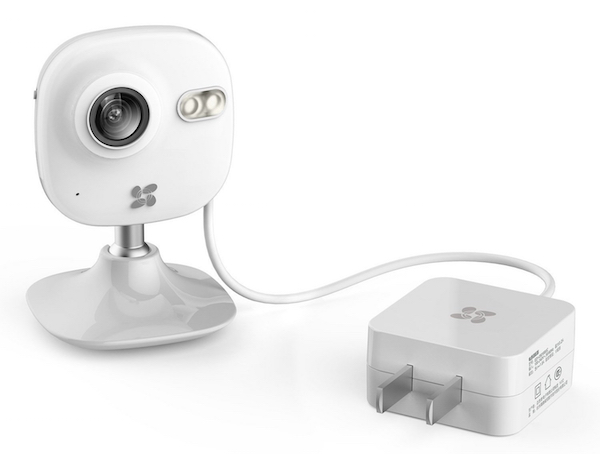 The puck-like shape of the MyFox Security Camera is certainly more appealing than the traditional bulky and boxy security camera we've come to associate with Big Brother or the NSA. EZVIZ's Mini offers a less obtrusive way of recording events in your home. The Mini weighs less than 4 ounces and is approximately 3.5 inches by 2 inches with a depth of under one inch. It includes a magnetic mounting bracket, shoots 720p HD video (25 fps), has a built-in microphone, supports microSD cards up to 64GB for local storage, and has a viewing angle of 130 x 115 degrees with smart motion detection. Like MyFox, EZVIZ offers a cloud storage service; but the amount of time stored is different. EZVIZ offers 7-day-history subscriptions for $4.99/month (or $49.99/year) and 30-day subscriptions for $9.99/month (or $99.99/year). EZVIZ currently offers a free 12-month subscription (7-Day) for purchasers of the Mini camera. Although the EZVIZ app seems a little clunky at first, I think the Mini is an excellent security camera and—at less than $70—it's also a tremendous value. You can also buy the the Mini with a removable 16GB microSD card for $10 more.
Another choice for the security-conscious is a system I've written about before, so it's not new—but it's still a fantastic product. I've tested the Piper classic for quite a while, and I find it to be highly reliable and simple to work with. It's all-in-one configuration (built-in 180-degree view camera with digital pan, tilt, zoom, and quad-view; two-way audio with microphone and speaker; battery backup; 105 dB siren; motion, temperature, humidity, light, and sound sensors; Wi-Fi; and Z-Wave) means it's ideal for renters or dorm room dwellers, and it can be expanded beyond basic security to become the hub for a highly capable home automation system by adding a variety of Z-Wave sensors and Z-Wave smart devices. The $199 Piper classic includes a 2 megapixel camera, while the $279 Piper nv ups the mega pixels up to 3.4, includes night-vision capabilities, and includes Z-Wave Plus. Either model is available in "Raven Black" or "Polar White". Oh, yeah, another awesome feature is that there's no monthly fee with either Piper version you use.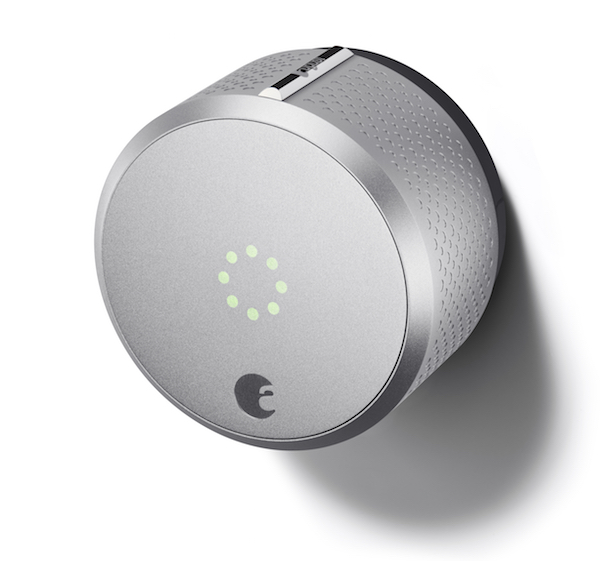 Apartment renters (and other folks, too) will especially appreciate the August Smart Lock. Starting at $199, the Smart Lock is battery-operated, connects using Bluetooth Low Energy, and—most importantly—uses the existing door lock's hardware. The only part that get's replaced is the interior side of the deadbolt. When you move out, it's a simple process (usually involving only two screws) to remove the August Smart Lock and replace it with the original lock hardware. The exterior of the lock remains the same, so maintenance people and landlords can still enter the dwelling using the original key. You, on the other hand, can use the August app on your smartphone to trigger the August mechanism to open the deadbolt for you.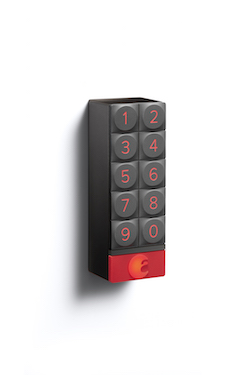 August recently introduced the $79 August Smart Keypad that works as a companion keypad for the August Smart Lock. Mount the Smart Keypad outside the door, and you can create unique entry codes for friends, family, or delivery people that will allow them to unlike the door without either a physical key or the August app on their smartphones. You can also use the Smart Keypad to lock the door by pressing the bottom button as you leave.
The Obligatory Smart Watch Recommendation
No one seems to be neutral about the concept of the smart watch. In my experience, people either love the idea or think you're a complete idiot for even considering it. I happen to be one of those idiots who love smart watches, but only for a few specific functions, such as displaying Caller IDs and text messages…and letting me turn off my Hue lights from my watch.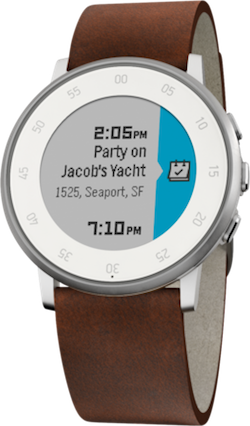 For me, considering the price, flexibility, usability, programmability, and cosmetics, I think the new Pebble Time Round, which starts at $250, is the smart watch of the year. I've worn one of the $100 Pebble Classic watches for months, and I absolutely love its combination of versatility and simplicity—and battery lifetime. I will say, though, that you could give me any model Pebble watch for the holidays (hint, hint), and I'd be extremely happy.

If your favorite watch nerd isn't ready yet for the digital, smart watch era but doesn't want to look like a sundial-toting Luddite, he'll (and it most always is a "he") be the perfect candidate for Think Geek's Tesla Watch. For a mere $70, you can give someone a time piece from another time or, as Think Geek describes it, a "splendid chronometer from a more elegant time." The steampunk-styled Tesla Watch includes a weathered-brass look on the metal findings plus an old-timey leather strap watchband. The skeleton-key-style winding tool slips into a convenient pocket on the strap. But the most impressive aspect of the Tesla Watch is the pair of light-up vacuum tube-style LEDs mounted on the watch bezel. If you know someone for whom digital time doesn't feel as lifelike or open as analog time, the Tesla Watch is a must. (Actually, I don't think the analog vacuum tube-styled LEDs are used in any way other than decoratively, so the passage of time won't have that elusive "tube" characteristic. But seeing is often believing, and the placebo effect might convince the wearer of a change…)

Show Your Love With Gloves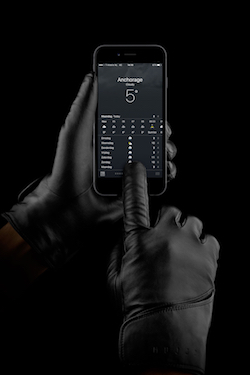 My son tells me that at the University of Minnesota in Minneapolis, they don't cancel school due to cold weather conditions until the wind chill reaches minus 50 degrees Fahrenheit. That's glove-wearing weather, for sure, but it can be impossible to use the touchscreen on a phone or tablet with gloves on because the capacitance-touch screens don't register contact with common materials used to make gloves. A number of companies make gloves specially designed to be used with touchscreens, but few of them make cold-weather apparel that's as classy as the Leather Touchscreen Gloves from Mujjo. For the currency-converted price of $88.08/pair, these gorgeous, "iconic"-looking leather gloves are fitted with a fold-over closure with a magnetic snap. Mujjo says other touchscreen gloves "are often restricted to functionality in one or two fingertips. In contrast, Mujjo's touchscreen gloves offer an unrestricted touchscreen experience and enable you to use all your fingertips and even the palm of your hand." The gloves are made from "premium Ethiopian lambskin" that's "infused" with "nanotechnology". It sounds like marketing hype, but the end result, according to Mujjo, is that the technology makes the gloves function independently from the wearer's skin. As a result, the gloves are insulated with "a soft and warm cashmere lining." As if it needed to be better than that, the Leather Touchscreen Gloves are water and windproof, as well as soil resistant. Oh, yeah, they also have "excellent anti-microbial properties."
Weather or Not
You could say that personal weather stations have been part of smart homes since before the term "smart home" even existed. But sophisticated home weather stations used to be expensive—really expensive. Fortunately for weather geeks like me, the costs of knowing as much as you can about the microclimate around your house has come down to more "affordable" levels. One of the coolest personal weather stations I've worked with is from BloomSky. The BloomSky Weather Station is an all-in-one, self-contained spherical gadget that has a built-in ultra-wide-angle camera that captures images of the sky every five minutes and creates a time-lapse video at the end of each day. Inside the unit are sensors for measuring temperature, humidity, barometric pressure, UV exposure, and precipitation. It connects to your home network wirelessly via Wi-Fi, has a built-in rechargeable battery, and can be powered using the included AC power adapter or with an optional solar panel. The BloomSky Weather Station attaches to the top of a mounting stake so it can be stuck in the ground anywhere there's power. With the optional solar panel kit, the combo can be mounted anywhere, regardless of access to electricity. The sample I'm testing is currently mounted to the railing on my back deck, but I'm considering moving it to the roof of my house for a better view of the full sky.

The fact that it's truly wireless (when using the solar panel) makes the BloomSky Weather Station an absolute dream for the do-it-yourselfer. The hardest part of setting it up is figuring out which buttons to push in order to pair it to your Wi-Fi network. (The manual that came with my Weather Station didn't quite agree with the way the buttons actually operated.) You can check on the current weather conditions outside your home anytime from anywhere via the BloomSky app, as well as access the previous five days of time-lapse weather video. You can also view current conditions and time-lapse videos from other BloomSky weather stations around the world.

BloomSky's Weather Station is regularly priced at $199 for the base unit and $337 for the base station with the solar panel and mount. At the moment, BloomSky is offering the Weather Station for $149 and the Weather Station with the solar panel kit and mount for $186. Even at the regular price, it's a good value compared to another personal weather station I'd recommend, the $149 Netatmo Weather Station for Smartphone paired with the $79 Netatmo Rain Gauge ($228 total)—although, in this case, the Netatmo does come with a sensor that monitors indoor air quality, temperature, humidity, CO2 levels, and has a sound meter. The Netatmo Weather Station does not, however, offer camera time-lapse capability.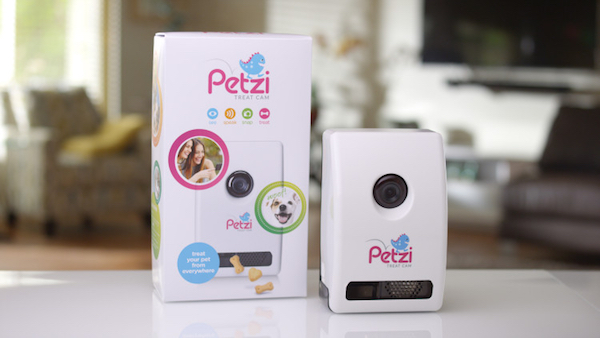 Automate Your Pet MY idea of the perfect cat toy is called "outside". My son and his wife, on the other hand, designed and built an eight-foot tall cat tower with multiple platforms for their cats. So we obviously differ when it comes to pet interactivity. If there's someone on your list who leans towards the interactive rather than the inactive when it comes to his or her pet(s), they'd probably love the Petzi Treat Cam, an app-controlled, Wi-Fi-connected remote pet treat dispenser and camera that "lets you check in on your pets and share treats with them from anywhere, at anytime." The Petzi Treat Cam has a wide-angle camera with night vision built-in, as well as two-way audio. There are multiple mounting options, so you can put it where your pet can't reach it. I really like the fact that it's a "universal treat launcher" that works with "any dry, crunchy treat smaller than one inch." I'd expected to see that you had to buy special Petzi treats for it to work. Kudos to Petzi for that feature.
Petzi also offers the Petzi Social Petwork, which I think is kind of like Facebook for dogs, cats, and other pets. The app is free, and it doesn't require owning a Petzi Treat Cam to participate; although the app can be used to control the Treat Cam if you do have one. The app is available for both Android and iOS devices.

Now that I think about it, however, you could just give everybody cash and tell them to spend the time picking out their own darn gift…