SIM2 Features LEDs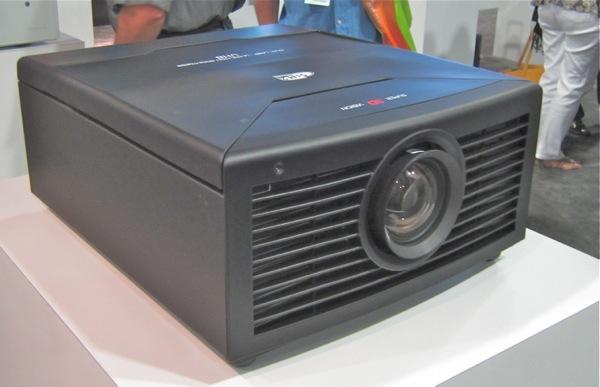 At its Friday press event, SIM2 Multimedia featured its M.150 single chip DLP projector with LED illumination. Normally, LED-based projectors aren't very bright, but this one lit up the screen. It might have helped that the 125-inch diagonal screen was a DNP Supernova with a gain of 2.4. Surprisingly, this screen had no perceptible hot spot and little fall off in brightness at off-axis angles, making it a viable alternative for LED-lit projectors like the M150.
SIM2 also launched, but did not demonstrate, its SIRIO high Brightness 3D projector (shown in the photo above). Its single-chip DLP dual lamp design (2 x 300W) is claimed to offer higher brightness than other dual lamp projectors. The projector body by itself is $25,000, and a variety of lenses are available at extra cost. The projector will go on sale in late October.
The company also announced a $1000 drop in price for its base line, single-chip DLP models. The Crystal 35 is now $5000, the Crystal 45, $7000.
A price was also announced for the Cinemaquattro 4K projector mentioned in an earlier blog: $158,000, not including lens, of which there will be a variety available. Just in case you were hovering on the edge of your seat before writing that check. The projector is based in a professional Christie design; the light output also mentioned earlier will depend on the chosen lamp configuration and lens.