Shopping with Apps: Who Needs a Salesman?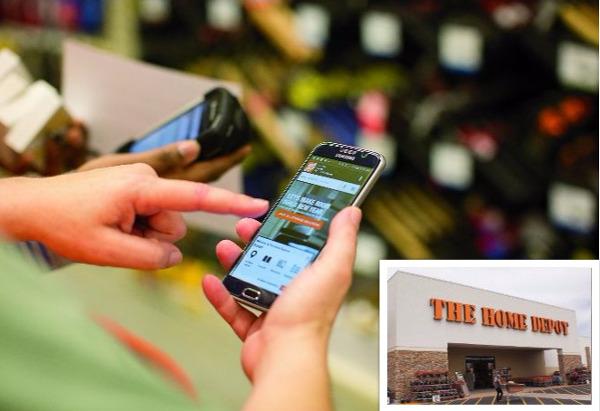 It's hard to believe that we once drove to big-box stores unarmed: no smartphone in hand; no Wi-Fi for the taking. A recent trip to The Home Depot reminded me how power in the power tool kingdom has shifted from merchant to shopper.
At home I downloaded the chain's free 5.0 app, then used it to find the closest store. As I entered the physical store and switched my phone over to Wi-Fi, the app stalled because it couldn't find the server. I realized that I needed to go through my browser first to accept the store's terms and conditions, then touch the Connect Now button.
Then it was back to the app where I was able to search for products by speaking, scanning, taking a picture, or typing in text. I said "power strips," and 354 varieties came up. One that fit my needs was a 12-outlet model from Monster Core Power with USB charging, Ethernet, and coaxial passthrough ports, plus surge protection. The app directed me to aisle 45, bay 006.
The store is so cavernous that the app should deploy you-are-here tracking and a voice that warns you to turn right as you approach Lighting. No such luck.
The Android and iOS versions are functionally identical except that the iOS version was recently enhanced with 3D floor mapping so that aisles appear to pop from the screen.
I found my way to the strip bin, conveniently in the same aisle as Bluetooth speakers and speaker wire. As promised, there were five Monsters in stock. Before I bought one at $64.97, I figured it would be prudent to check competitors' prices. I could have loaded such apps as ShopSavvy or ScanLife to see if I was getting the best deal. Instead, I Googled it and found Walmart had the same item for $49.95 and Amazon for $34. The latter came with free, two-day shipping for Prime members. I returned the product to the bin and opted for Amazon's delayed gratification.
One of the app's newer features is package recognition. Point your phone camera at a box, and the app matches the image to inventory—a capability that seems irrelevant to anyone already holding the product. But a store associate named Frank Fabrizio explained that you can get more detailed specs from the online database and see customer reviews. A few minutes later, I was dissuaded from impulsively buying an animated window projector kit stacked at the front of aisle 5. Though the holiday-themed box was attractive, I discovered through my phone that the projector was dim, keystone correction didn't work well, and a bed sheet could easily substitute for the included plastic velum. What did you expect from a $69 projector?
I did not encounter beacons, in-store alerts beamed to my phone via Bluetooth when I got near a pushy display. A company spokesman explained that the technology, once touted as the next big thing to lure customers, is being downplayed. I was delighted, since I regard beacons as intrusive spam.
Home theater installers may want to try Home Depot's Pro app rather than the consumer app. Both access the same inventory, but Pro users are better able to track purchases for different jobs. With a million products online and 35,000 available in a Home Depot store, either app enables you to have an order shipped to your home or to a store for pickup.
Venturing into an actual store in 2017 may seem so 1997, but the experience can't be beat when you can touch a tangible product while a knowledgeable scout with global reach is holstered to your belt.