Sharp Previews Ultra HD TV Lineup and Hi-Res Wireless Music Player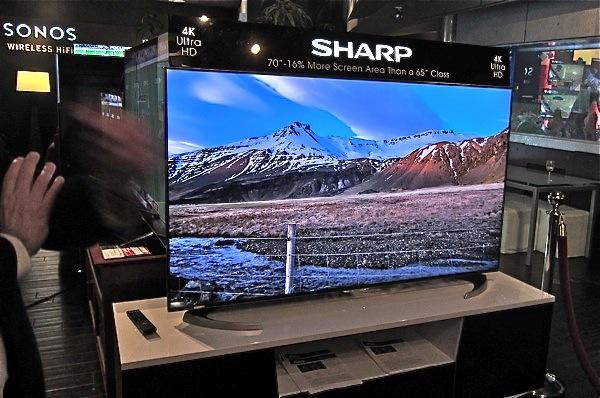 Last Thursday Sharp Electronics introduced its latest Ultra HDTVs, along with a Wireless High Resolution Audio Player, at the Video & Audio Center in Santa Monica, CA.
The new AQUOS 4K UD27 lineup, available now, consists of two LCD models: the 70-inch LC-70UD27U ($3,600) and the 60-inch LC-60UD27U ($3,200). Aside from size the features of the two sets are identical. They are LED edge-lit with local dimming, and both are THX-certified.
The Revelation Upscaler in these new sets will scale current source material up to the 3840x 2160 resolution of the sets' panel. The sets can also operate at a 480Hz refresh rate, though it's not clear if this is the natural refresh rate or if it's the result of backlight scanning (in most sets that claim such a high refresh rate, it's the latter).
The sets can decode Ultra HD material encoded with in HEVC (H.265) and can display 4K material at up to 60 frames per second (using our current 8-bit color, 4:2:0 color subsampling, maximum 10.2Gbps bandwidth standards).
The sets' SPECTROS Rich Color Display boasts of a 21% wider color spectrum (gamut) than conventional LED HDTVs. But you should never select such a wider gamut on this or any other set if you want to accurately reproduce our current HD program material, all of which has been produced using the Rec.709 color gamut standard. That may change in the future as the wider color gamuts being considered for Ultra HD are implemented. But our current understanding is that neither this or any other Ultra HD set currently available will be able to achieve the full benefits of a wider color gamut in the source should the future offer such program material. It's not enough that a set is capable of a wider gamut in a source, it must also be able to pass such a source through all of the circuitry from its inputs to the LCD imagers in the panel, as well as recognize the metadata that will automatically switch the set from that Rec.709 gamut, which will likely still dominate most of our available program material for the next decade. The same limitations apply to a future, deeper color bit depth (10-or 12-bits per color; our current standard is 8-bits per color).
Sharp's smart TV feature is dubbed SmartCentral 3.0, and offers full video streaming capabilities. A Wallpaper Mode can also display your favorite photos (at 8MP or higher in full 4K resolution) when the TV is not in active use.
Sharp also demonstrated the SD-WH1000U, its new Wireless High Resolution Audio Player that can pass uncompressed, lossless, high resolution audio at up to 24bits/96kHz (FLAC, WAV, or DSD, 2.0 to 7.1-channels) to your amplifier via the WiSA wireless system using the 5.2-5.8GHz band. While not in itself a storage device, it can connect wirelessly to your home network to access the music files stored in your media library, on your mobile device using an free mobile app, or use its own, internal SACD/CD/Blu-ray/3D-capable drive. The audio is transmitted to any WiSA-compliant speaker system or, via the optional Sharp Wireless Bridge, to any amplifiers and speakers. The player can also deliver Full HD video wirelessly to your display using WiHD and included adapters.
The Sharp Wireless High Resolution Audio Player is priced at $5,000 and the Sharp Wireless Bridge at $1,000 (one of the latter is needed for each channel).