Sensio 3DGO! Gives 3D TV Owners Rental Options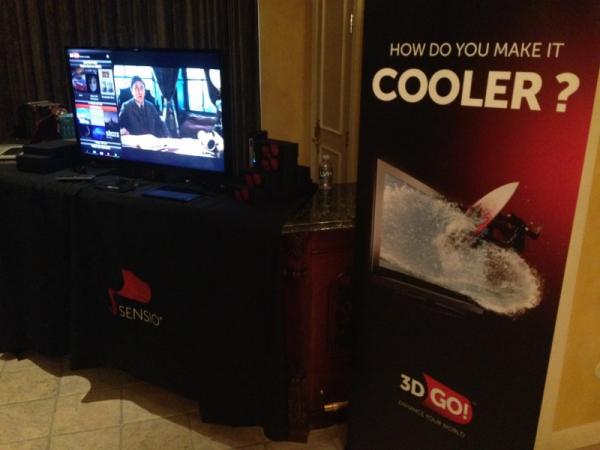 While 3D demonstrations at CES were almost non-existent – other than some glasses-free technology demonstrations put on from some companies or the massive 140-panel mega-3D display outside of LG's booth – there are still millions of 3D capable TVs already in the marketplace and people's homes. Sensio looks to tap into this reservoir of displays by delivering tons of streaming 3D content directly to these displays with its 3DGO! rental service.
The company said that 3DGO! had to be "good 3D" which means good content, good quality and a good user experience. The UI was definitely slick, allowing you to easily navigate films and make a selection. The service currently offers about 100 titles and has deals inked with some of Hollywood's heaviest hitters in the form of Disney, Pixar, Paramount, Dreamworks Animation, Universal, Starz and National Geographic.
3DGO! is a rental service with the charges generally $7.99 for new releases and $5.99 for catalog titles. The rental period is 24 hours and movies can be watched as much as your eyes can handle during that period.
Sensio uses a patented process of spatial compression technology and an adaptive bit-rate to deliver the content, varying between 4, 6, and 9 Mbps depending on the Internet connection. They explained that in comparison, Netflix uses 5 Mbps for HD, 7 Mbps for Super HD and 12 Mbps for 3D quality.
Both the regular and 3D picture quality on the Despicable Me 2 and John Carter demos I viewed was terrific with no noticeable artifacts or streaming issues and lots of depth and presence to the image. Brightness was also quite good and I never felt like I was watching a compressed image. The image never suffered from any of the softness or motion issues that other HD streaming seems to suffer from. The reps were also eager to point out that the hotel's Internet service was limited to 6 Mbps, so I was only viewing the mid-quality level.
The 3DGO! app is already available on Vizio TVs and Sensio just announced a deal to add the service to Panasonic sets sometime this spring. The service will be backwards compatible to all Panasonic 3D TVs dating back to 2011. Sensio claims it has delivered around 8,000 3D rentals so far.