Sennheiser's Ambeo 3D Soundbar Fully Immerses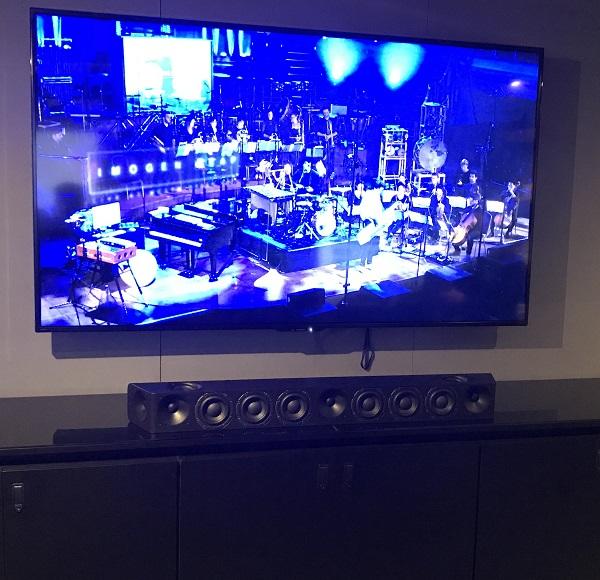 Sennheiser, a world leader in high-performance headphones, premiered its new Ambeo 3D Soundbar at CES, the company's first foray into the soundbar market. The speaker is designed to be an all-in-one solution that won't require a subwoofer to deliver full-range, room filling sound.
Ambeo is Senheisser's program for delivering truly immersive 3D audio, and has products and technologies covering the entire audio signal chain, from capture to mixing to reproduction. Part of Ambeo's secret sauce is a height elevation that gives audio its natural three-dimensional character.
The bar included six mid-bass drivers and three tweeters across the front, and four additional bass/mid drivers at the sides and top of the bar to deliver a full 5.1.4 experience. The speaker will be Dolby Atmos certified. A key part of the speaker's performance is the in-room auto calibration to adjust for room reflections and psychoacoustics. The demonstrator said the bar would perform well in rooms up to 4 x 8 x 10-meters (Height/Width/Depth).
They demonstrated the bar with a variety of program material including film (Mad Max: Fury Road), sports (a soccer match), and music. They demonstrated the speakers alongside a 8.2 channel Neumann Studio Monitor system that was claimed to cost greater than $50,000. The voicing of the Sennheiser Ambeo bar was surprisingly similar, with incredible width and height presentation.
No word was given on the full input spec, other than it would accept HDMI, digital and analog inputs. The speaker will also work with some voice control platforms. There was no official word on when the speaker would be available other than "soon," and that it would first launch in Europe, then Asia, then worldwide. Pricing was also vague just that it would be "slightly higher than $1800."