Scosche Made the boomBottle Better; Meet boomBottle +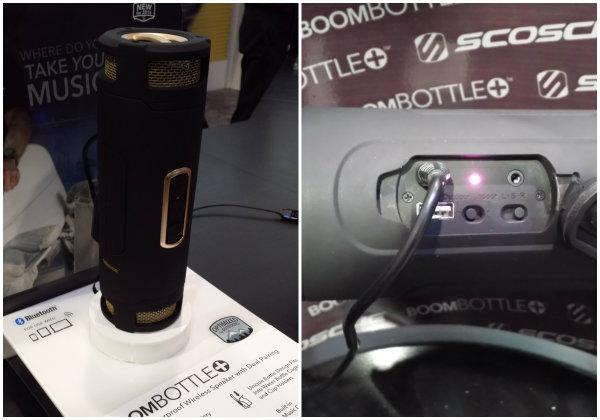 If a portable Bluetooth speaker that fits into a bicycle's waterbottle cage is good, isn't one that's more powerful, more rugged, plays longer and sounds better? The original boomBottle was good, but the boomBottle + showing at CES is significantly better. This cyclist certainly thinks so. If nothing else, it looks so much more polished and attractive than the original model.
The boomBottle + now has two weatherproof 50mm drivers instead of the original's 40mm, and the speaker has an IP67 rating for water and dust. That dust-proofing includes sealed speaker grills, so you can take the boomBottle + on the dryest, dustiest dirt trail you can stand. It has a shock-absorbing coating to reduce the harsh effects of vibrations that also provides a nonslip coating on the grips.
The boomBottle + has a sealed port for charging and connecting an aux input—connecting via Bluetooth lets you keep that port closed and sealed against the elements. More impressively, you can use the boomBottle + to charge your portable device, while it's still playing via its internal 6600mAh battery.
The boomBottle + will come in a variety of color combinations, including a white/gold combo to match Apple's lineup. Personally, the black and gold one best matches my favorite bike, so that's my choice. The boomBottle + will retail for $160 when it becomes available in the second quarter of 2015.