Samsung PN59D8000 3D Plasma HDTV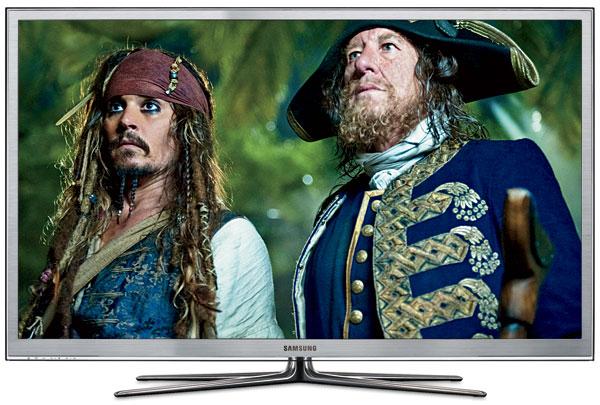 Price
: $3,000
At A Glance
: Accurate color, excellent resolution • Exceptional control features • Good but relatively dim 3D
We've said it before: Plasmas are the sand-in-the-face-at-the-beach, wallflower, last-kid-picked members of the flat-panel team. LCDs clearly dominate today's HDTV market. But plasmas are also the Cinderella stepsister whose beauty becomes obvious when you really look for it. And at least three major manufacturers, including Samsung, think enough of plasma sets that they continue to make and promote them.
Samsung's latest flagship plasma line is the D8000 series—not to be confused with the company's D8000 LCD sets, although it surely will be. Just remember that Samsung's plasma model numbers start with a P.
At 59 inches (joined by 51- and 64-inch siblings), the PN59D8000 splits the difference between its 58- and 60-inch competitors. While hardly a bargain at $3,000, it offers a lot of bang for your ever-shrinking buck.
A Three-Minute Tour
Typical of a growing industry trend, Samsung's skimpy printed manual offers only basic guidance. More complete information is available on screen. I'm not a big fan of these increasingly common e-manuals; I find them less convenient than a good old-fashioned paper version. But they do help the environment and save manufacturers a bundle on multi-language printing costs.
The PN59D8000 offers an ample supply of inputs—as long as that means HDMI. The single component/composite connection is shared and requires a special adapter (supplied)—a concession to the set's 1.5-inch depth. The e-manual states that the component input is limited to 720p, but I fed it 1080i with no complaints. There are two USB jacks for playback of compatible music, video, or photo files from a USB storage device. Samsung provides four picture modes for the video inputs: dynamic, movie, relax (love that name!), and standard. Some of these modes, particularly dynamic, lack the full selection of video adjustments. The movie mode has them all, and that's the one I used for this review. In general, the controls are separately adjustable for each input, and for 2D and 3D as well. One significant exception is the set's very complete color management system (CMS)—which Samsung dubs color space. The color space control (it would be more precise to call it color gamut) cannot be adjusted separately for 2D and 3D sources from the same input.
While many of the set's specialized controls are best ignored and left in their off or default positions, others were useful. Samsung now provides both standard high/low (two-point) and 10-point (10p) white balance adjustments in all of its high-end models, including LCD sets from the 6 series and above and all of its plasmas. You may use the two-point and 10p settings simultaneously, for example by first performing a rough calibration with the two-point controls and then fine-tuning it with the 10p adjustments.
Unlike LCD designs that require a backlight and often include a backlight control, plasmas are self-illuminating. If you want to raise or drop a plasma's overall brightness level, the contrast control, which adjusts the white level, is a bit of a blunt tool. The Samsung's cell light control uniformly adjusts the overall brightness level by controlling the drive to the plasma cells. To reach my desired 30-foot-lambert peak brightness in 2D and a respectable brightness in 3D, I needed to place this adjustment at or near its maximum setting of 20.
Dynamic contrast is the type of feature I normally avoid, but on the PN59D8000, I found that its low setting offered a subtle but useful increase in 2D image pop. For 3D, I increased this to medium. 3D needs all the help it can get in the pop department. But the high setting was a bridge too far.
The seven-position gamma control helped me obtain the best image balance, although I ultimately settled on its default setting (0) and only occasionally deviated from this (most often in 3D) by a single step up or down. The RGB Only mode can be helpful in properly setting the color and tint controls with a color pattern. The set offers a suitable color pattern (and an additional black-and-white pattern as well).
As for flesh tone, black tone (said to "adjust the screen depth"), edge enhancement, motion lighting ("reduces power consumption by reducing screen brightness when the picture on the screen is in motion"), and the two noise filters (digital and MPEG), I left them all off.
All Samsung plasmas refresh at a rate of 60 hertz. With a 24-fps, 2D source and Cinema Smooth selected in the film mode control, the refresh rate increases to 96 Hz, and the set displays 24 fps at four times its original refresh rate, with no 3:2 pulldown conversion. Cinema Smooth isn't a motion-interpolation feature; the set neither has one nor needs one. The added frames are merely repeated.
If you have selected Cinema Smooth and feed the set a non-24-fps source, the refresh rate reverts to 60 Hz and the set defaults to one of the auto film mode settings. However, 3D playback always uses 3:2 pulldown on 24-fps sources.
The 3D menu offers a number of settings to optimize the 3D effect, although I left them all in their factory default positions. The Samsung also has a 2D-to-3D conversion mode that has limited effectiveness—it's neither better nor worse than such modes we've tested on other sets.
The two-sided, multitasking remote is identical to the remote on the last Samsung I reviewed, the UN55D8000YF 3D LED LCD HDTV (Home Theater, August 2011). All of the usual controls are on the front, which is backlit. On the other side is a non-illuminated keyboard for use with the set's Internet features. The Internet side connects wirelessly to the set over Bluetooth; the control side communicates via IR. As before, I found this remote too compact and cramped for my adult fingers.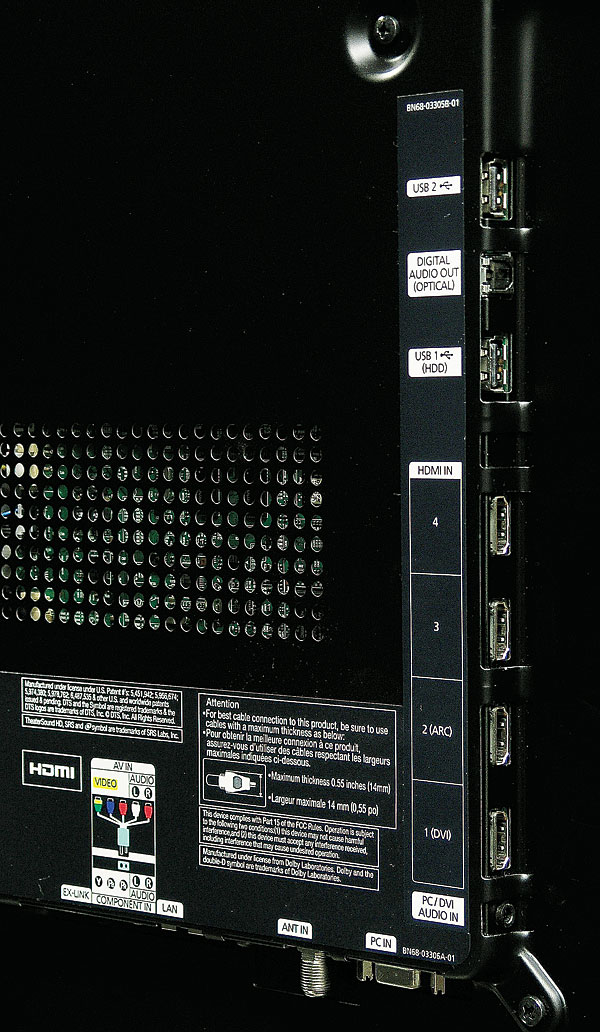 As with the UN55D8000YF, this set employs the company's much-improved menu layout. The drop-down selections, such as the individual color calibration controls, remain in place long enough to let you perform proper adjustments before they return to a full-screen menu that interferes with the measurements.
All of Samsung's current 3D models use active 3D glasses that are Bluetooth only, which means they won't break lock if you look away or if someone walks between you and the screen. Two pair of Samsung's new, lower-priced SSG-3100GB glasses, powered by non-rechargeable batteries, come with the set (extras are $30 each). Samsung also offers two new styles of full-priced, rechargeable 3D glasses. The SSG-3700CR ($130, black only) are very comfortable since the electronics have been moved to the back of the ear supports rather than weighing down on your nose. Samsung also now offers the SSG-3500CR ($80), which wasn't available to try out at press time.
As I write this, in addition to the glasses, buyers of Samsung 3D sets receive complimentary 3D copies of the four Shrek films, the first three re-rendered for 3D, and the 3D Megamind. All of these titles are currently exclusive to Samsung. Technically, the glasses and discs are a promotion that's optional with the dealer. Be sure to ask about them before you pull out the plastic.
There are also several features designed to minimize the possibility of plasma burn-in—or erase temporary burn-in should it occur. Found in the System menu, these features include Auto Protection Time Off (minimum setting 10 minutes), Side Gray for 4:3 sources, pixel shift, and scrolling. The Samsung appeared less prone to temporary burn-in than some plasmas we've tested. But if you take reasonable precautions, particularly if you avoid prolonged display of still or partially still images, it should minimize any burn-in risk.