Salamander Designs Teams with Leon Speakers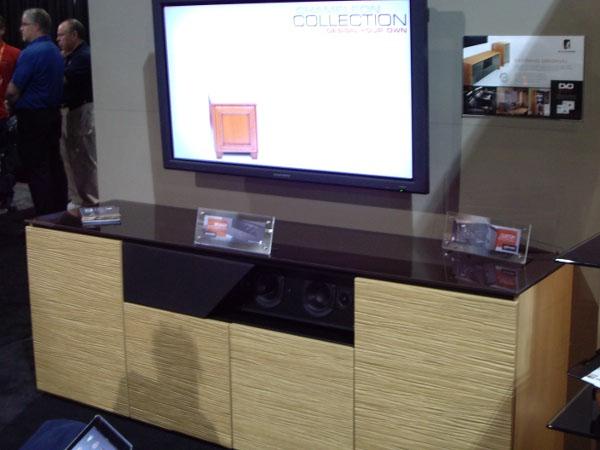 Salamander Designs, the Connecticut-based maker of fine entertainment furniture and accessories, introduced hand-crafted center and LCR speaker options for its Synergy and Chameleon AV cabinet lines at CEDIA 2013. Featuring high-quality Peerless woofers and cloth-dome tweeters, the speakers are built to order by Michigan-based Leon Speakers and integrated into the cabinets on mounting brackets that permit the angle of the speaker to be adjusted for optimal sound dispersion.
Options include a center-channel speaker, a double-wide LCR speaker, and a triple-wide LCR speaker, all featuring a matte black, sealed MDF enclosure with 5-inch midrange drivers and 1-inch tweeters; respective pricing is $899, $1,299, and $1,499, which is added to the price of the cabinet. To give you an example of cabinet pricing, the Denver 236, shown above in natural oak, belongs to the Chameleon Collection and lists for $2,199.
Chameleon cabinets are available in more than 20 configurations and in a variety of contemporary and traditional styles. The Synergy line features a highly configurable modular design.