Review: LG 47LW5600 3D LCD HDTV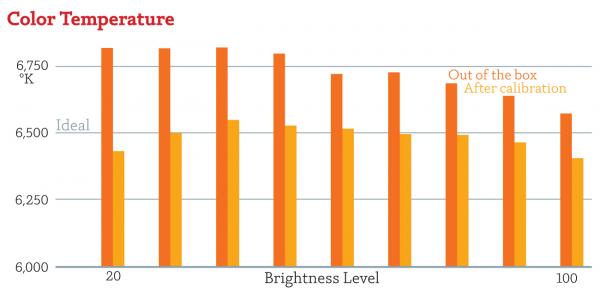 TEST BENCH
Color temperature (ISF Expert 2 mode/Warm color temperature preset before/after calibration):
20-IRE: 6,817 K/6,431 K
30-IRE: 6,816 K/6,499 K
40-IRE: 6,819 K/6,548 K
50-IRE: 6,796 K/6,527 K
60-IRE: 6,720 K/6,515 K
70-IRE: 6,726 K/6,495 K
80-IRE: 6,685 K/6,492 K
90-IRE: 6,638 K/6,464 K
100-IRE: 6,572 K/6,405 K
Primary Color Point Accuracy vs. SMPTE HD Standard
| | | | | |
| --- | --- | --- | --- | --- |
| Color | Target X | Measured X | Target Y | Measured Y |
| Red | 0.64 | 0.65 | 0.33 | 0.34 |
| Green | 0.30 | 0.33 | 0.60 | 0.60 |
| Blue | 0.15 | 0.15 | 0.06 | 0.07 |
The LG 47LW5600's Warm color temperature mode delivered the more accurate picture of its two presets, measuring within ±317 kelvins from 20 to 100 IRE. Performance improved to ±95 kelvins after grayscale calibration in the set's ISF Expert 2 mode.
Color-decoder error via the set's HDMI inputs measured –5% for both green and blue. Its primary color points matched the SMPTE HD standard pretty closely with the BT709 Color Gamut option selected, with green measuring slightly yellow-green. Gamma with the TV's 2.2 Gamma setting selected averaged out to around 2.4. Brightness, measured from a 0-IRE (black) full-field pattern in the same mode, was 0.005 ftL. With Dynamic contrast switched off and High LED Local Dimming option selected, the set's contrast ratio measured 7,386:1.
Overscan with 1080i/p signals was 0% with the Just Scan aspect ratio mode selected, while the 16:9 mode displayed 3% overscan. The set displayed full picture resolution for all signal formats delivered via both HDMI and component-video connections. Motion-resolution tests revealed 1,000-plus lines with TruMotion on, although this feature also added a "video effect" to film-based content at all settings, even in Custom mode with the judder reduction slider at its minimum setting.
The LG's screen uniformity was mostly excellent, although a degree of spotlighting — uneven lighting of specific zones in the picture — could be seen in images where light objects traversed a dark background, especially in letterboxed movies. The set's performance on viewing angle tests was excellent: Pictures retained uniform brightness and contrast even at a +90º viewing angle. The LG's deinterlacing of both film- and video-sourced material was also excellent. The only test that it didn't pass from the various Blu-ray tests discs I checked out was Chroma Multiburst from Spears & Munsil High-Definition Benchmark. Noise-reduction processing was very effective, with no picture-detail loss visible even with the Noise Reduction and MPEG Noise Reduction modes at their highest settings. — A.G.
LATEST VIDEO