Review: Bang & Olufsen BeoSound 8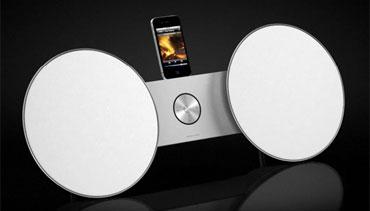 It might just be my eyes, but the BeoSound 8 has a certain visual resemblance to a Fiat 500, or maybe a Frogeye Sprite.

Or Peter Lorre.

There's just something visually arresting about the two connected discs. To be honest, I'm not sure if I like it. Then again, what do I know? My idea of high style is putting on shoes.

If you were to assume that underneath the saucer-shaped grills lay 8-inch woofers, perhaps in some trick coaxial arrangement with a tweeter, well, you'd be wrong. Oddly, there is no listing as to the size of the drivers on B&O's Website or in any of its literature. So I scrounged up a tape measure and found the woofers to be about 5 inches, the tweeter about an inch. Bang & Olufsen claims a frequency response of 38 Hz to 24,000 Hz, which if even close to true is really impressive for such small drivers in a small cabinet.

Setup
The 8's brushed metal chassis seems sturdy and high-end from the front, but around back all the cables enter at odd angles behind a 80s boombox-style plastic cover. Seriously, I thought I was going to find space for 8 D-cells back there. The way the power cable angles in is rather inelegant, and I guess it gives it a slightly cleaner appearance once the cover is back on, but not by much.

The basic setup is for tabletop, and to that end there are two rubber-tipped spikes you attach to the back of the speaker cabinets. If you'd rather wall-mount, brackets are included to let you secure the 8 to the wall.

Depending on placement, a 3-position switch buried in next to the inputs limits the bass output. The range is most-to-least depending if the 8 is freestanding, on a wall, or in a corner, respectively. It's smart to include such a switch, as the 8 has plenty of bass on its own, and can sound downright boomy when placed in a corner.

Place an iPad, or just about any iPhone/iPod, into the cradle at the top and it syncs automatically. Press the center button on the front panel, or the duplicate button on the small disc remote, and you're off. The only other controls on the BeoSound 8 are track forward and back and volume up and down. The center button doubles as a pause button. You're rewarded after pushing any button with an LED lighting up around the front panel controls in the direction of the button you pushed.
B&O has a free BeoPlayer app on the iTunes App Store that lets you surf 20 or so different Internet radio stations, ostensibly to be played back through the 8. These are from all over the world, and they sound pretty good. Baroque from the Netherlands, rock from the UK, humor from France, and so on. There's also a clock and sleep timer. Up to 10,000 Internet radio stations will be accessible soon (at least according to the app), but you'll have to purchase an upgrade.

Alternatively, you can plug the BeoSound 8 into your computer via USB. In this way, the 8 acts like your computer's speakers, allowing you to play all your music, plus any Internet radio stations you can find.