Recession Tips for Home Sellers and Installers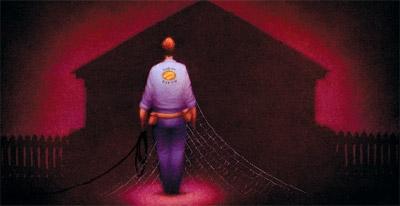 Oil is more than $100 a barrel. Gas is already $4 a gallon in some cities. Subprime mortgages are causing stock-market freefalls. And it's getting to where you can't glance at the news without hearing about a recession.
The financial state of the Union has been better, to put it mildly. And few industries have been affected as drastically as those associated with housing. Production homebuilders, who've been the hardest hit, are vastly scaling back or going out of business. And while many custom builders are staying busy, one where I live told me: "Last year I did 12 homes. This year I'm doing 7."
What does all of this have to do with custom installation? Quite a bit, actually. Whether you're a home builder, seller, buyer, or owner, or an installer yourself, there are things you can do from a custom perspective to ensure that you don't make any missteps navigating these rocky financial roads.
Home Builders and Sellers
In a down market, differentiation is one of the best ways to sell a house. If all of the homes for sale in your neighborhood offer roughly the same amenities, what will set your house apart? One that's wired for things like home networking, distributed audio, and surround sound can really stand out.
Practically every household now has multiple computers and wants to enjoy services like high-speed Internet access and file- and printer-sharing. As a builder or seller, you'll find that being able to use buzzwords like "smart wired" or "future-proof wired" will resonate with potential buyers.
Also, consider wiring that bonus room over the garage for a home theater. The benefits of a prewired media room will stand out in many shoppers' minds.
Prewiring a home for things like surround sound and distributed audio is relatively inexpensive during construction, so there's big potential for return on a minimal investment.
Home Buyers and Owners
Many states have few or no regulations concerning who can call themselves an A/V installer, so a lot of new companies have appeared, many of them almost overnight. Buy a van, put a magnet with the company name on the door and, voilà , you're an installer!
But now that business is slowing, some of these companies are closing up shop as quickly as they opened. Many of their former customers will now have to pay another firm to address issues that the original installer should have handled for free. The nugget of wisdom here is that it's important to be selective when choosing an installer.
If you're looking to add a system to your home, do you really want to use someone that you noticed driving around your neighborhood in a van, or "some guy" that your electrician knows? There's more stability and less chance of "here today, gone tomorrow" when you use an established company that works out of a brick-and-mortar storefront. (For more suggestions on finding the right pro, check out my article "How to Choose a Custom Installer.")
Custom Installers
While it actually seems to be business as usual at the über-wealthy extreme of the market, installation firms that have relied on production homebuilders are being hit hard. But it doesn't have to be all gloom and doom. This is a time for installers to return to the core of custom, which is providing exceptional, specialized service. That's why it's a must for a company to invest in ongoing training and industry certification for its staff.
It's also a good idea to check in with past clients and see if it's time for an upgrade. Now that the high-def format war is over, are they ready to add a Blu-ray Disc player? Do they know all the cool ways they can incorporate their iPod into their system?
Now more than ever, word-of-mouth advertising from satisfied customers is the best way to ensure business survival. View every finished project as another showroom for your firm's expertise, and handle service issues in a timely, professional manner. Giving every client the royal treatment should help you weather this storm and emerge on the other side even stronger. - S&V