QMotion Cues Up Motorized Curtains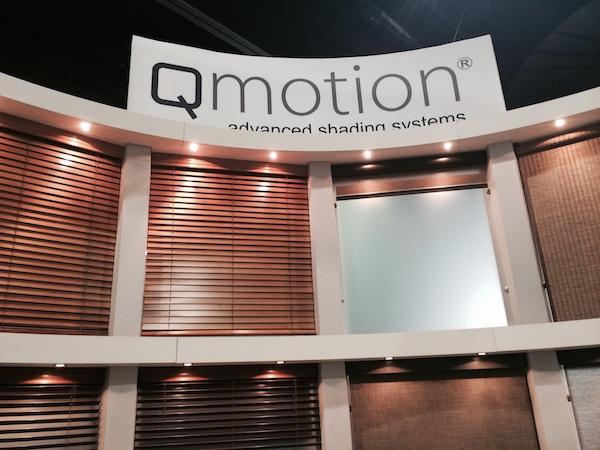 Motorized window treatments (shades, curtains, and other window coverings) are always super cool to watch as they magically open or close in front of a window. For some reason, I'm never able to resist pushing the button on the remote that makes a shade go up and down or a curtain open and close. It's just so cool - and can keep your house very cool, too.
QMotion Shades
new motorized drapery rod is one of the coolest of all the motorized window treatment mechanisms at CEDIA to watch. QMotion says the company's new mechanized device is "the industry's first - and only - trackless motorized drapery rod." The new wireless drapery rod requires no external motors or wires and is extremely quiet when in operation. Rods come in two sizes: 1.5-inches (diameter) that uses C-cell batteries; and 2-inches in diameter that uses D-cell batteries. QMotion estimates that users can expect battery life to be one to two years on average, depending on the size of the rod and how often the mechanism is used each day.
In addition to pointing out that the new product is "the only drapery rod in the market that is battery-operated" as well as "the only track-less and wireless drapery rod available," QMotion notes that it's the only drapery rod to feature QMotion's exclusive manual override feature, called "Touch Wand Activation". With this feature, a homeowner can gently tap the wand that would normally be used to manually close or open the drapes. Movement sensing technology automatically sets the drapes in motion. The drapery rods come in six finishes, with optional finials available in six designer styles. An adapter is available for use with custom finials.
QMotion's automated rods will be supported by the company's intelligent interface for integration with many home automation systems. It will also be supported by QMotion's Qsync smartphone/tablet app (iOS and Android).