In Progress: Sony Spells It Out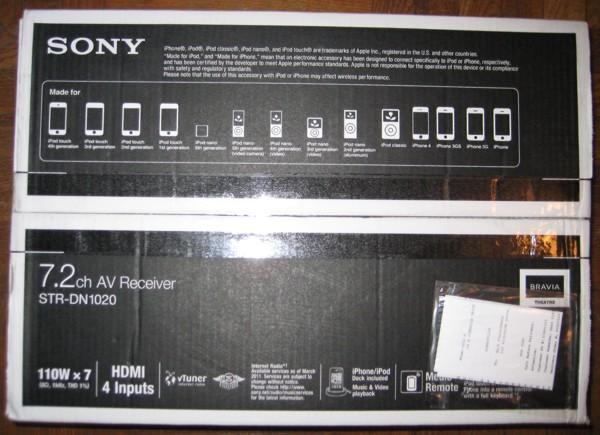 This is the second installment of
In Progress
, an occasional series on noteworthy things about products under review.
Are you plagued by doubts about the iThing compatibility of a prospective surround receiver purchase? If you're actually inspecting a carton in one of those old-fashioned brick-and-mortar stores, Sony has the solution. Its STR-DN1020 ($500) lists every iDevice with which it's compatible right on the top of the carton! Complete with little graphic representations, no less. Since our 600-pixels-wide image may not be entirely legible, we'll list them below.
The list of compatible models includes all four generations of iPod touch, the second through sixth generations of iPod nano (excluding the first), the iPod classic (generation not specified), and iPhones 4, 3GS, 3G, and "iPhone" (presumably first). Unmentioned and presumably incompatible: pre-classic hard-drive-based iPods, the old iPod mini, and iPod shuffle. You'll have to use a dock—apparently direct USB connection is not provided for iGizmos—but at least the dock is supplied.
Though the product is described as a "3D Blu-ray Disc[TM] A/V Receiver" on the Sony website, one thing it will not do is play Blu-ray discs, as we confirmed by removing the product from the box and taking a squint. No disc drawer was visible. Presumably Sony is referring to interoperability with a BD player and its features.
For more features see press release. Also see product listing in Sony store.
LATEST VIDEO