Plasma in Steps Page 5
Another feature that Philips touts is Pixel Plus 2 HD processing. I'd recommend Pixel Plus to clear up murky-looking analog channels on cable TV, but it made high-quality sources like DVD look grainy and over-enhanced, so I used the Standard mode. Like most TVs, the Philips offers a number of picture presets. Unfortunately, you can modify the settings for only one of them, and your changes apply globally to all of the inputs - a big handicap.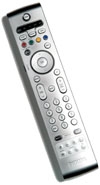 PICTURE QUALITY The Constantine DVD was perfect for gauging the Philips TV's video performance. In the opening sequence, where a scavenger discovers a knife with supernatural powers, the Philips displayed punchy contrast and a natural range of colors that captured the subtle tones of the sunbaked reddish-brown desert landscape. Brightly colored objects, like the guy's red jacket, looked less intense than on the other sets but were still reasonably vivid. In a shot where the scavenger reaches down into a hole, the dark opening showed off the set's ability to achieve deep, dark blacks. But the shadows crossing his face had limited detail, which made the picture look flat overall.
On ABC's Lost, the Philips did a great job drawing out fine detail in the high-def picture. In close-up shots of would-be assailant Sawyer confronting the vendor at his truck, I could clearly see the moisture welling up at the corner of his eyes as he started to lose his resolve. The colors were clean, and the tone of Sawyer's face looked entirely natural. Darker scenes took their toll on the TV's picture, however. In a subsequent bar scene, shadowy segments of the picture had a patchy, solarized quality, with light gray "islands" swirling against the slightly darker background.
BOTTOM LINE Crisp HDTV pictures, stylish looks, and a bunch of cool features like Ambilight 2 backlighting and a swiveling stand make the Philips 50PF9830A an appealing option for your flat-TV needs. The set's overall image quality falls a solid notch below the other two models tested here, however, and the lone Personal picture preset for all of its video inputs was disappointing. But you can't argue with the price, which is among the cheapest I've seen for a 50-inch plasma set.
LATEST VIDEO