Pioneer Elite PRO-FHD1 Plasma HD Monitor
Finally, 1080p plasma.
Tired of getting beaten up by LCD's marketing machine, Pioneer said, "Fine, here. . ." and released to the world the ultraexpensive but gorgeous PRO-FHD1 plasma. Sure, it's 8 grand, but it's 1080p and offers impressive performance across the board.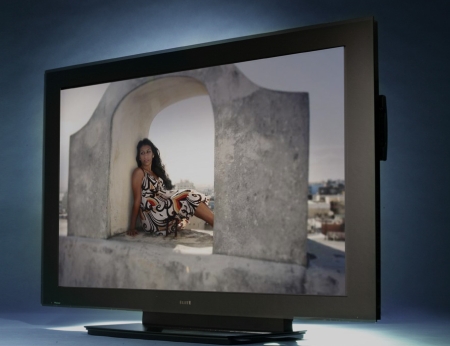 Elite
As part of Pioneer's step-up Elite brand, the PRO-FHD1 shares the requisite black-gloss finish. That, and subtle touches like a semitransparent edge, give it an elegant look that has been missing from most flat panels for years. The remote is brushed black metal and is rather hefty. It's also a colossal waste of space. There are only a little over a dozen and a half buttons, yet the remote is 9.5 inches long. That's not to say it doesn't have everything you need. Direct input access and aspect-ratio control are both here, but why is it so huge?
The menus are easy to follow and easy to look at. There are lots of noise-reduction options, although, if you give the PRO-FHD1 a decent signal, it looks excellent with these turned off. If the signal is less than perfect, these noise-reduction features in their lowest settings create a clean and very noise-free image, despite what may be in the content.
Scale Me Up
Processing has always been one of Pioneer's strong suits, and the PRO-FHD1 continues that trend. It deinterlaces 1080i correctly, and, even more impressively, it picks up the 3:2 sequence with 1080i, as well. This makes it one of the few displays of any type or price on the market that can do that. With regular old 480i, it also picks up the 3:2 sequence quickly and cleanly. Resolution, as you'd hope for a 1,920-by-1,080 panel, is perfect. In the Dot By Dot mode, the PRO-FHD1 is capable of reproducing a one-pixel-on/one-pixel-off pattern both horizontally and vertically.
The display scales 480i sources well, although some sets do it better. With chapter 2 of The Fifth Element, the professor's beard is detailed, although it's not as detailed as I've seen elsewhere.
Under the PureCinema part of the menu is an innocuous setting called ADV. This setting, when it detects the presence of 3:2 pulldown (as in film-based content at 24 frames per second), increases the set's refresh rate to 72 hertz. Then it adds an additional frame to the "2" portion for a smoother-looking 3:3 pulldown. By increasing the refresh to 72 Hz, it can show each film frame three times instead of the jerky 3-2-3-2 sequence that 3:2 pulldown creates. It does smooth the image, but, because it's still 24-frame-per-second material to begin with, don't expect ultrasmooth videolike images. This is a good thing. Trust me—you don't want your film material looking like video.

Or, then again, maybe you do. Some companies, like Philips with their PixelPlus technology, create ("interpolate") new frames to make film look like the video on your evening news. Some people like this; I hate it. Thankfully, that isn't happening here. The 3:2 isn't totally without motion artifacts, which, depending on the disc you're watching, may be better or worse than if the TV is display in 60-Hz mode. I used the ADV mode for just about all of my movie watching.
Oddly, when you send the PRO-FHD1 a 1080p signal, it doesn't allow you to select the 72-Hz mode. This is kind of disappointing, as you'll have to send an interlaced signal to take advantage of the 72-Hz mode if your player can't output 1080p/24. Thankfully, as I mentioned above, it deinterlaces 1080i correctly and picks up the 3:2 sequence, so it's doubtful that you'd see any difference, even if you could enable the 72-Hz mode with a 1080p/60 signal. If you can feed it 1080p/24, the PRO-FHD1 automatically goes into the 72-Hz mode, even though the menu says otherwise.
Driving
The best thing you can do when you get a PRO-FHD1 is hit the poorly named AV Selector button on the remote and switch to the Pure mode. This mode has a far more accurate color temperature and even adjusts the color points to be far closer to accurate than they are in other modes. Those color points are a little off SMPTE spec but far closer than just about any plasma we've measured here in years. Gray-scale tracking is decent, although the light and dark ends tend to drift from D6500.
If there is a weak point in the Pioneer's performance, it's the black level and contrast ratio. Big plasmas never have good full-on/full-off contrast ratios, as they (like all plasmas) have circuits to limit the maximum light output so they don't ignite (not really, but you get the idea). Even so, a black level of 0.032 foot-lamberts isn't too impressive, although it's ever so slightly lower than the last 50-inch Pioneer we reviewed. So, the contrast ratio of 555:1 is far lower than the recent crop of Panasonic plasmas but higher than any of the other competition. More impressive is the ANSI contrast, which is far more of an indicator of what you see on the screen. At 930:1, it is higher than any recent plasma we've reviewed, with the exception of the previous Pioneer 50-inch plasma (the PDP-5060HD) and a Philips. That's an LCD-like range; LCDs also typically have high black levels but great ANSI contrast ratios. The result is an image that really pops, although, in a dark room, the blacks don't exactly melt into the background.
One other criticism is a small amount of noise, both audible and visible. The PRO-FHD1 hums on bright scenes, but, from a normal viewing distance, it's doubtful that you'd hear it. The same is true with some visual noise that, from even just 3 feet away, is hard to see. From a normal viewing distance, you can't see it. So, unless you're "rot your eyes" close, the image is extremely clean.
The need (or lack there of) for 1080p in a 50-inch display is one that I've mentioned countless times, and rarely does anyone seem to care. If you're interested, you can read about it here
If You've Got the Dough
If you're not an LCD fan but feel the need for 1080p, you don't have many options. With the PRO-FHD1, you get top performance in just about every category (save black level). The downside, of course, is the price. It's around twice the price of its similarly sized competition. But, then, Pioneer's Elite products have always been that way. It's the old "you get what you pay for." The only other downside is that, at this past CES, Pioneer showed off what they have planned for later this year, and, well, if you have to buy right now, go for this one. But, if you can wait. . ..
Highlights
• 1080p
• Accurate and built like a tank

LATEST VIDEO