Pioneer Elite PRO-510HD
Pioneer goes for the brass ring of high-end video with their new rear-projection TV.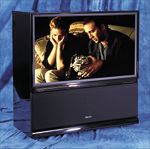 Most televisions are real dogs. I don't mean to be cynical (I just am); however, when you're used to high-end, front-projected images processed with good-quality video scalers, you become jaded by even the more-expensive video products being offered to the general consumer. It becomes a struggle to remind yourself that, hey, compared with what's available for the price, some of these sets aren't all that bad. Pioneer, however, has decided to take their Elite brand to the next level. The Lexus of the consumer electronics market has taken a stab at adding some real high-end features to its already top-end television line.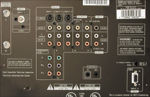 On the surface, the PRO-510HD's features look similar to other upper-end products. The widescreen, HD-ready set offers an internal line doubler for NTSC sources and accepts 480p or 1080i DTV signals from an external tuner through both compo-nent and VGA-type D-Sub 15 connectors. There are four audio/ video inputs that offer composite and S-video connectors, in addition to stereo audio jacks. The first input even includes a BNC-type video connector. The BNC, a more-accurate video interface found on professional products, is a nice touch for those systems that include a similarly equipped DVD player. This is the first hint that Pioneer is going for something better than usual.
From there, you get two inputs that accept wideband component signals, but you'll want to think twice about using this TV with a progressive-scan DVD player. Pioneer follows the pack in that all 480p sources, whether they're DVD or DTV, are viewed in the 1.78, full-screen mode. Nonanamorphic DVDs and 1.33 standard-definition TV signals will appear stretched. This is a drag and is prevalent on way too many high-end rear-projection sets these days.
Fortunately, the internal line doubler does an excellent job and diminishes the need for a progressive-scan DVD player. A menu setting called PureCinema allows you to activate the line doubler's recognition of film sources (movies and most TV shows), which are more difficult to process than video sources (TV sitcoms, news programs, and talk shows). Converting both signals in a similar fashion results in a picture wrought with distracting motion artifacts. PureCinema offers more-intelligent processing based on the source material and is something usually reserved for better-quality, external processors. This feature makes for one of the best internally line-doubled pictures I've seen on a rear-projection set. Images are solid, filmlike, and free of artifacts. The display doesn't scale for various aspect ratios, so the anamorphic (or 1.78) screen mode has a denser line structure than the zoom setting. Quick vertical motion trips up the doubler, but not any more than it would with the quality Dwin and DVDO processors. You would have to buy the $7,500 Faroudja DVP-2200 processor to get a better picture.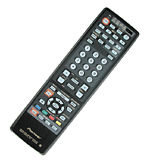 Again, Pioneer travels with the herd when it comes to the user interfaces. For one, the large remote control is littered with buttons. Features editor Chris Lewis and I had a hard time finding certain controls. On the plus side, though, there are discrete buttons for the TV's four inputs. This makes system automation with an IR-based controller possible. On the other hand, Pioneer doesn't follow the same vein with the power and aspect-ratio controls, which both cycle through their various functions. I'll give Pioneer credit for backlighting the unit and offering preprogrammed codes for controlling up to four other devices.