PicoBrew Brings High Tech to Homebrew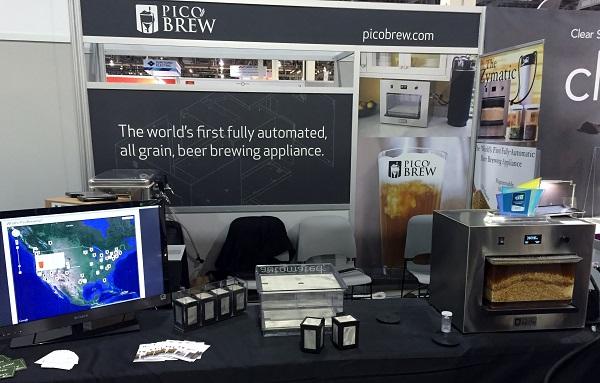 First, when you can intersect technology and beer, you are likely never going to go wrong. I have met very few people in this industry that don't also love a good ale, lager, IPA, Belgian, stout, lambic, or other.
Now, I love craft beer. Like, I love craft beer. In fact I have a separate blog devoted to reviewing the stuff, and I've drank/reviewed almost 400 to date. But, I have no real interest in making beer. To me it is too much hassle, too much mess, too much chance for bacteriological contamination ruining the batch, too much chance of crafting gallons of stuff I wouldn't want to drink. In a way, craft beer is like sausage for me; love to drink it, don't really want to know how it is made. However the good folks at PicoBrew also love beer, and their new Zymatic fully automatic brewer is just high-tech and awesome enough to make me reconsider my non-brewing ways.
The PicoBrew is a countertop appliance measuring 20.5 x 14.5 x 17-inches (WxDxH) that resembles a microwave at first glance. The system has a 9 pound grain compartment and 4 hop cages with maximum 1.5-ounce capacities to support four different timed hop additions for you to create the perfect Imperial IPA. It brews all BJCP (Beer Judge Certification Program) beer styles in 3.5-4 hours and produces 2.5 gallons of (hopefully) delicious finished beer per batch.
Because the system connects to the Internet and to the complimentary PicoBrew service, you can access a recipe library with over 100 recipes including clones of such delicious beers as Pliny the Elder and Stone Brewing Co's Arrogant Bastard. The app can also allow you to check on your current batch and PicoBrew can even check-in on your system remotely to ensure correct operation and monitor any problems. When you finish your batch, the system is easy to clean with dishwasher safe components.
The Zymatic is offered in two versions, with ($1799) and without ($1699) a keg. The system also doubles as a great sous-vide machine for all of your cooking masterpieces! Cheers!