Panasonic TH-50PX600U High-definition Plasma TV
Panasonic's video division has staked its life on plasma televisions. So far it looks like a pretty good bet. Sure, the company sells flat panel LCD and rear projection LCD and DLP TVs. But newspapers, magazines and televisions are host to countless Panasonic ads for plasmas and nary a one for the other technologies. And have you seen Panasonic promotions for an "LCD Concierge" service like one offered for its plasmas? All of this is paying off. Panasonic sells one-third of all plasmas sold in the United States – more than any other company.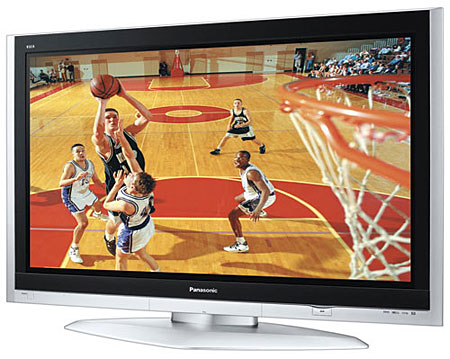 Sony's video division has staked its future on LCD and does not even sell plasmas. (For the high-end market it also offers SXRD TVs, a variant of LCoS technology.) Mitsubishi, on the other hand, has placed its bet on DLP. Many other manufacturers seem to be hedging their bets.
No one knows when or how the market will turn, but my personal hope is that plasma continues at least to hold its own. LCD simply cannot provide the picture quality you can get from plasma. TJN came to a similar conclusion in a recent comparison, on this site – though his language was more measured than mine. (Developments seen at the recent 2007 CES suggest that LCD might be catching up, but we can't be certain until we get our hands on some of the more promising 2007 LCD sets.—Ed.) Panasonic, in fact, began running full-page advertisements in major newspapers in November pointing out all the flaws in LCD technology and noting that plasmas suffer from none of them, saying at the end, a bit disingenuously, "we have no ax to grind" as Panasonic "makes both LCD and Plasma TVs." (Of course plasma, like every display technology, has flaws of its own, most notably, up to now, black-level shortcomings.)
A Look Around
That brings us to Panasonic's latest plasma offering, the 50-inch TH-50PX600U, which retails for $3,299, though of course it is usually sold for less. I've seen it as low as $2,599, from reputable online dealers, including Amazon and OneCall. The last time I reviewed a 50-inch Panasonic plasma, the TH-50PX25U/P in 2003, it sold for $7,999 Think about that for just a minute. A price drop of 60 percent in three years! Go back just a year earlier, to June 2002, and a Panasonic 50-inch plasma I reviewed cost $12,995.99. Does that tell you that even this $3,299 price will drop if you wait? Undoubtedly. But most analysts agree that the major price cuts have already occurred. Future price reductions will likely be only incremental.
This latest iteration of the line – Panasonic calls it a "ninth-generation" plasma panel – comes housed in a silver and black frame that is modest looking, as I prefer. One allure of plasma is its svelte presence in your room, so I don't understand why some manufacturers load the panels in big, hulking frames.
The 50-inch display is, of course, 16x9, and the resolution stands at 1366 x 768 – typical of 50-inch plasmas these days. The set comes with a wealth of inputs, including dual HDMI-HDCP and component, and one VGA for computers on 15-pin DSUB. It includes both HD and standard –def tuners and a front panel Secure Digital (SD) card slot for viewing digital photos. It also features a CableCARD HD tuner for viewing digital cable without a cable box.
A less expensive version, list-priced at $2,799, comes without the cable card slot, or the VGA input but is otherwise the same. Many people are finding the CableCARD slot to be of limited utility because with it you lose interactivity with the cable system that gives you the opportunity to order shows and movies "on demand." In addition, many cable companies bundle a high-definition DVR with the cable box, making it a package few customers can pass up. So you might want to consider the less expensive version without the CableCARD and VGA input.
This model under review is roughly midway up the Panasonic line. Early this year we reviewed the 42-inch professional version (three different models now sell for prices ranging from $2,095 to $2,995). A 37-inch consumer plasma, with a 1,024 x 720 resolution (720P) lists for $1,599. And a new 65-inch model with 1080p resolution – the second 1080p plasma to come to market, after Pioneer – sells for $9,999, and promises to be quite an interesting product that we hope to review soon.
Before I go on, I have to tell you that Panasonic originally delivered the plasma the second week in September. But the first sample proved to be defective. Not infrequently it would just switch off all by itself, leaving only a blinking red power LED. It would then be unresponsive to on/off commands from the remote until I had unplugged the set and "rebooted" it. Sometimes days would go by with no problem. Other times, I could not get the set to stay on longer than a second or two for an entire day.
Panasonic took more than a month to send me a replacement unit. All of this had one positive note for you, the readers. I was able to live with this set longer than I usually hold a review product and spent quite a lot of time watching it – on those occasional days when I could get it to stay on.
A highly reflective, plastic protective screen sits in front of the plasma panel on this model. This reflectivity is the first thing one usually notices about a plasma display, no matter who manufactures it. On a bright day it looks like a dark mirror; you can see every detail of the room in it. Watching it in a darkened room, a lamp or other light beside you will be perfectly reflected and wholly objectionable. To watch this set with any lights on, make sure they are overhead or off to the side.