Panasonic TC-P46G10 Plasma HDTV
Price
: $1,700
At A Glance
: Good performance out of the box • Excellent resolution • Impressive black level and shadow detail • Accurate color
It Keeps Getting Better
When I visited Panasonic in Japan in the fall of 2004, with a gaggle of other journalists, plasma was the dominant flat-panel technology. But it was still pricey. On that visit, Panasonic told us that its goal was to get plasma prices down to $100 per diagonal inch.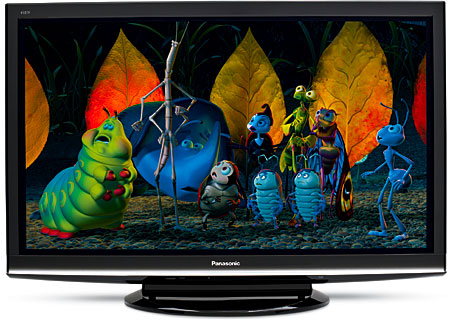 That same fall, Ultimate AV reviewed the Panasonic TH-50PX25U/P, a 50-inch model that had an MSRP of $8,000. At $160 per inch, the company was still well short of its goal.
This newest lineup of plasma HDTVs shows just how far Panasonic has come. The TC-P46G10 ($1,700) is priced at $37 per diagonal inch. Predictions of future prices are a fool's game, but we may now be in a sweet spot for affordable flat-panel displays. If you've been putting off that purchase waiting for prices to bottom out, there may be no better time than now to make your move.
New Panel, New Features
The G10 series is midrange in Panasonic's 2009 plasma lineup, just below the V10 and Z1 sets. At 46 inches, the TC-P46G10 is near the lower end of the company's size offerings, which also include a new 54-inch option.
All of Panasonic's new VIERA sets include its Neo PDP (Plasma Display Panel) technology. This is said to offer reduced power consumption from previous designs, deeper blacks (Panasonic modestly refers to this as its Infinite Black panel), and 1,080 lines of resolution with moving images. All new Panasonic VIERA sets, including this one, are ENERGY STAR compliant. As with last year's models, Panasonic also rates the panel's life span at 100,000 hours (to half brightness).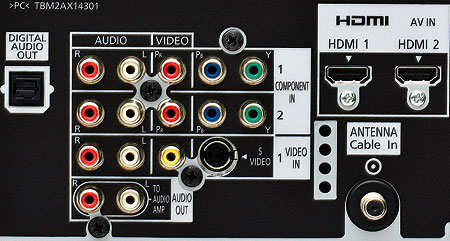 Panasonic claims improved motion performance for its new panel and drive system, thanks to an increase in the subfield drive frequency to 600 hertz. Subfield drive is a fundamental part of plasma display technology, not a special feature. It's related to how often each pixel flashes for each picture frame and the digital video bit rate. To explain this briefly, without wading waist deep into techno babble, if you increase the subfield drive frequency, it increases the options available to designers. This allows them to enhance the image in a number of ways, including smoother motion and less false contouring. However, simply increasing the frequency does not do this. Rather, it's how the engineers make use of the added capability of that higher frequency that counts.

Don't confuse this 600-Hz subfield drive frequency with the 120-Hz (and up) refresh rate that many new LCD sets offer. That's a different technology that operates in very different ways, and you can't directly compare the numbers. But I suspect that fact won't stop your friendly neighborhood video store associate from claiming that 600 Hz is a bigger number than 120, 240, or 480 Hz, so it must be better.
All of the G10 models (and the Z1 and V10 lines as well) are THX certified. They also include Panasonic's VIERA CAST feature. VIERA CAST can connect you to specific, Panasonic-selected Internet sites without a computer. It only requires a connection to your Internet provider (either directly or through your home network). For 2009, these sites include YouTube, Picasa, Bloomberg, weather, and Amazon's Video On Demand. After more fussing than necessary with the Ethernet connection to my cable modem (I'm not known as Mr. Computer around the Home Theater campfire), it worked like a champ. My only observation is that many of the selectable widgets produce still images, which aren't the best steady diet for a plasma display. The same caution will be true for another new optional feature: a networked video camera that you can connect to the set and use to monitor areas in your home, such as a nursery or the front door.
The TC-P46G10 has several features that are designed to reduce the risk of such burn-in. If you limit the time you spend viewing still images, avoid ultra-bright modes like Vivid, and are extra cautious during the first 100 to 200 hours of the set's life (the phosphors are most prone to permanent burn-in when they're new), you shouldn't experience any problems.
Old Friends
Most of the TC-P46G10's inputs are on the back. A few, including an SD card slot for playback of JPEG still photos or motion video recorded in either MPEG2 or AVCHD, are on a more easily accessible side panel.
The Panasonic has five preset Picture modes: Vivid, Standard, THX, Game, and Custom. All of them (including THX) are individually user adjustable. You can assign a Picture mode to as many inputs as you like, but apart from Custom, your settings for each mode are global. You can't individually adjust them for each input. I used the THX mode, calibrated and tweaked as needed, throughout this review.