Panasonic Announces MySpace TV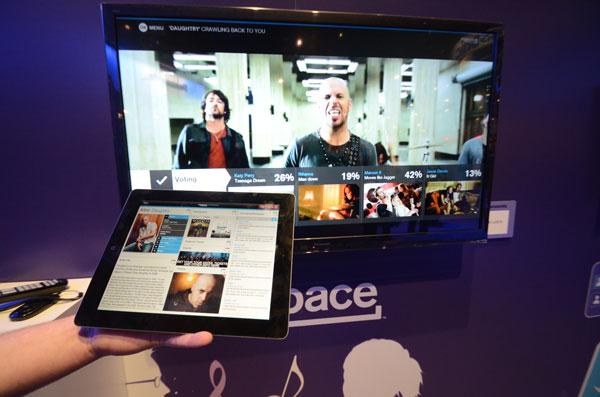 Myspace CEO Tim Vanderhook, and co-owner, Justin Timberlake announced Myspace TV at the Panasonic CES press conference. Available on Panasonic TVs as part of VIERA Connect on their next generation of Smart VIERA TV HDTVs, Myspace TV allows users to share and comment on the TV shows that they're viewing.
Vanderhook began by explaining,"Historically, TV has been a shared experience, as people gathered together to watch their favorite programs." Viewers can make comments on programming creating a group conversation that will show up on their friends' Myspace TV.
Panasonic also previewed a feature of Myspace TV that allows a user to "send" a TV show they are viewing to a friend so they can watch at the same time. That is, it can send links to those TV shows. This does not mean you can send a TV show that is playing over broadcast TV or cable as appeared in the Panasonic video. The content will be limited to those IP TV networks and other stations--those that are available online.
In the Panasonic booth, the Myspace TV included the ability to vote on one of five videos that were playing over a certain period. While listening to the videos a user can read extended artist and music information on the Myspace TV iOS or Android companion app on their tablet or smartphone. By tapping on a button in the Myspace TV companion app, the mobile device will listen to the music being played on the TV (similar to the way it is done on the "Shazam" app) then will display the artist pages for a dual screen experience.
Although Panasonic exclusively announced Myspace TV and will be first to make it available on VIERA TVs, according to a Myspace TV engineer, the Myspace TV app will be available on many TVs and devices in the second quarter of 2012. Myspace TV will begin by sharing music and music videos but should move on to video by the end of the year if they can make agreements with the movie and TV studios and networks.