Sneak Peek: Oppo's First Ultra HD Blu-ray Player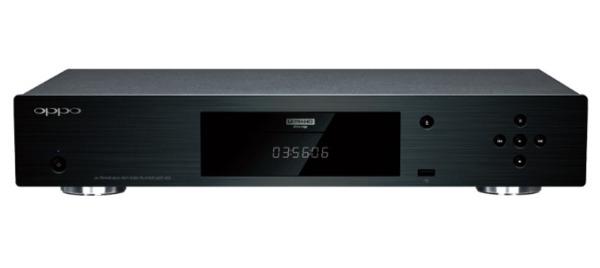 Turkey day is over. Black Friday 2016 is history. Small Business Saturday is past. And Cyber Monday is in the rear view mirror. Like me, you've likely deleted hundreds of promotional e-mails in the last week or two. In my case these included promises of fantastic deals on flights to Las Vegas—a week after I made my non-refundable reservations for the upcoming 2017 January CES at the normal, usurious prices. I didn't have the heart to look, but I doubt if those deals were applicable for CES week—both the airlines and the booking sites are well aware of the thousands of extra passengers flying to Vegas for the Big Show.
I didn't peruse the e-mail clutter for other door-busting deals, but wouldn't have been surprised if there were Blu-ray players among them. Perhaps even some Ultra HD Blu-ray players. Up to now the latter have been limited to models from Samsung, Philips and (just recently, at least here in the U.S.) Panasonic. But they've done the job well. I've had no complaints about the video performance from my Samsung UBD-8500 either in UHD, HD, or (using its internal Apps) streaming, and no complaints about its audio quality with video sources either. In fact, its price has dropped from $400 at its introduction just last spring to as low as $200 when I last checked.
But questions remain. Where are Sony, LG, Pioneer Onkyo, Integra, Denon, and Marantz? Where, in fact, is Oppo—the company that has grabbed much of the Blu-ray player attention for the past few years?
We now know where Oppo will fit into the UHD universe. It's working on its own UHD disc spinner, a fact that hasn't been much of a secret for the past few months. The company has now openly announced that this player, the UDP-203, should be available soon, possibly by next month (December) or at worst in January 2017.
While its exact price is still under review, the UBD-203 should launch at between $500 and $600. The player looks to be about the same size as the company's smallest current BD player, BDP-103, making it slightly shorter than Oppo's upscale BDP-105. It wouldn't be surprising if Oppo comes out with a premier UHD model (a UBD-205, perhaps?) at a later date, but we don't anticipate more than the UBD-203 for now.
Unlike the current Samsung and Philips players, but like the pricier Panasonic DMP-UB900, the Oppo offers a front-panel display. (Our review of the Panasonic will be posted in the coming weeks.)
In addition to Ultra HD discs (including HDR10 high dynamic range, with a later firmware update promised for Dolby Vision), the UBD-203 will play back Blu-ray, Blu-ray 3D, DVD, DVD-Audio, SACD, and audio CD. It will decode audio-only formats as well: AIFF, WAV, ALAC, APE, and FLAC. It also plays DSD (Direct-Stream Digital) audio files in stereo DSD64/128 or multi-channel DSD64. It will decode all current audio formats for audio on video, up to and including Dolby TrueHD and DTS-HD Master Audio, and output them either in PCM or bitstream. When set for a bitstream output it will support sources carrying immersive audio formats such as Dolby Atmos and DTS:X.
There are two HDMI outputs, one for audio only and the other for both audio and video (allowing for a separate audio connection to older AVRs and pre-pros that can't pass UHD). Two USB 3.0 ports on the back panel (and a third on the front) allow for media file playback. The latter are fed by 32-bit digital to analog converters from AKM of Japan.
Built-in Wi-Fi or wired Ethernet can also connect to a user's home network to access media files stored on computers and home servers. There's also an HDMI 2.0 input for external streaming devices and set-top boxes, and both digital and analog 7.1-channel audio outputs.
We look forward to reviewing this new Oppo in an upcoming issue, and also UHD players from other sources. I'd be surprised if more fence-sitters don't also jump onto the UHD Blu-ray player bandwagon at CES.