OOMI Cube Aims to Streamline Smart Home Setup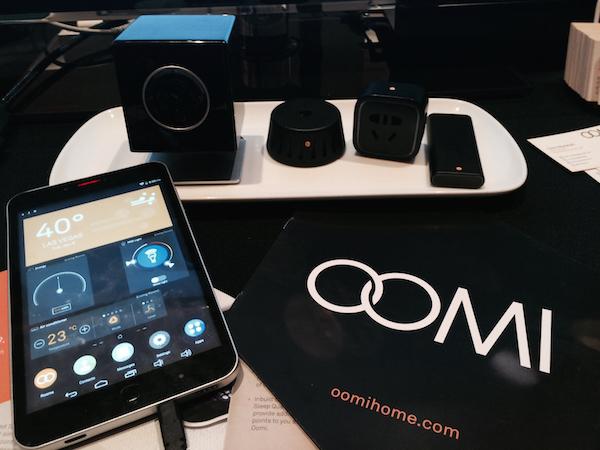 Most of the current DIY smart home automation systems suffer from multiple drawbacks, many of which become apparent during the setup of the smart home hub and identifying the smart devices in the system. When it comes to market, OOMI's Cube is designed to change all that.
The OOMI Cube is the heart of the OOMI home management system. It includes a high-definition IP camera with night vision plus a built-in microphone for streaming of images and sound to your smartphone. Speakers in the OOMI Cube allow remote two-way communication. Temperature, humidity, light, and UV sensors monitor environmental conditions in your home. The Cube also contains motion, vibration, glass-breakage and noise detectors. A 360-degree IR remote control emulator lets the Cube operate as a universal AV remote control.
Unlike most home automation systems, OOMI includes an OOMI Touch 7" tablet with custom apps for controlling OOMI's functions. The OOMI Touch is the everyday control panel for the OOMI system, but it also simplifies setup of the system with its Tap-and-Touch capability. Smart devices and sensors are added to the OOMI system by plugging them into power and then tapping them with the Touch tablet. Initially, OOMI devices will include the OOMI Streamer (an Android 4.2 TV streaming stick), the OOMI Plug (a smart switch with discrete USB port and electrical consumption tracking), the OOMI Air (a Volatile Organic Compound Meter for monitoring vaporized carcinogenic chemicals), and an OOMI RGB bulb.
Once set up, an OOMI system will use what the company calls, "Adaptive IQ" pattern lifestyle learning to develop "IQs". (IQs are often called "scenes" and "triggers" or "recipes" in other home automation systems.)
In addition to OOMI-developed devices, the Cube will be compatible with Z-Wave and other wireless home automation devices, including Philips Hue, Dropcam, Nest, and Sonos.
Tentative pricing for an OOMI starter system is expected to be approximately $400. You can sign up to be notified when OOMI's Kickstarter campaign starts and get in on a 50% pre-order discount. Availability of the initial system components is expected to be in four to six months.