NYNE Hits the Road with Four Extremely Portable Speakers with NFC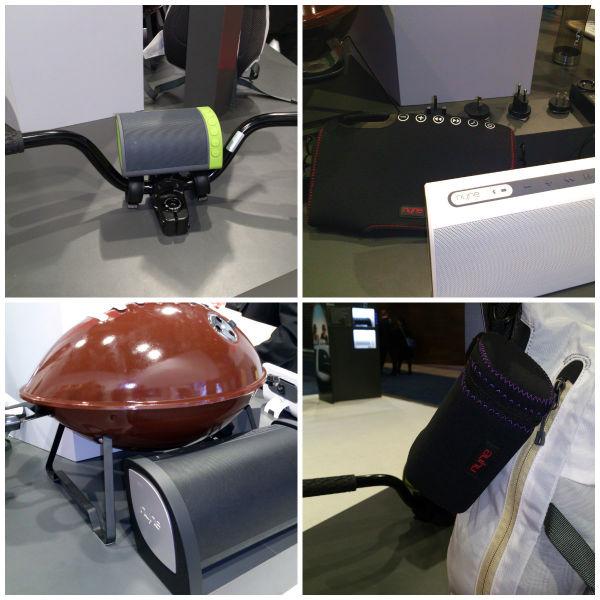 NYNE is a relatively new company that made a big showing last year at CES and is back, ready to impress again this year. Although they've discontinued their gorgeous home product line, NYNE, a division of BOSS Audio Systems, is jumping into the small-speaker market with both feet. However, unlike other manufacturers to make a single portable speaker to fit a variety of needs, NYNE is here at CES with a variety of speakers, each filling a specific niche.
The first one to catch my eye was the Cruiser (MSRP $80). As a crazily avid cyclist, anything to do with bicycles catches my eye in the glitz and glitter of Vegas. I can only hope they'll let me take this out for a spin on the Strip! The Cruise clips easily but securely onto a bike's handlebars, but it also could go on a jogging stroller. It features Bluetooth 4.0, NFC, a mini 3.5mm input jack and USB charging that provides up to 10 hours of battery life. That should be enough for my next ride. Or not. It's gonna take an epic ride to burn off the calories consumed here in the press room. With 10 watts of power, it's not going to drown out traffic noise but unlike headphones that block out noise, this speaker still lets you hear sounds around you.
The second product that looked interesting and unique was the TT ($130) - NYNE's transportable travel companion. At first glance, I thought it was a purse or briefcase with its coordinating shoulder strap. The TT has 16 watts of power and also has USB charging for 10 hours of playback time. It also has Bluetooth 4.0, NF, a 3.5 mm input jack, and an onboard microphone. Ideal for the global traveler, the TT comes with an AC adapter with four international plugs.
The other two new offerings were a bit more mundane. The Bass ($150) is the largest of the collection with 20 watts of power and also has the international adapter plugs. The Mini ($50) is the smallest of the bunch with Bluetooth 2.1 and a mere 5 watts of power. It does come with a carrying case with a clip to attach to a backpack or bookbag and it's available in five different color schemes.
Taking music on the go just got easier, safer, and more practical with NYNE's newest line of products geared for the traveller and active enthusiast.