NuVo Technologies Wireless Audio System

NuVo Technologies, a company with roots in the music business that date back to 1924, was onto something when it introduced its first multi-zone home audio system back in 2002. A decade later, the company offers a lineup of wholehouse audio systems designed for professional installation and recently introduced the NuVo Wireless Audio System, its first DIY consumer product. The system can deliver up to 16 simultaneous streams and is said to be just as flexible as a wired system: You can group listening zones, synchronize audio between zones, and independently control each zone.
Conceptually, the system is simple: You plug the GW100 network gateway ($199) into your router and deploy music players throughout the house. You can stream music from your home network and Internet-based streaming services Pandora, Rhapsody, SiriusXM, and TuneIn in addition to streaming music from a Bluetooth-enabled smartphone or tablet directly to one of two available players: the 2 x 60-watt P200 ($599), which supports high-quality apt-X Bluetooth streaming, and the 2 x 20-watt P100 ($479). Both models play MP3, WMA, ACC, FLAC, and WAV files and can be controlled via Apple or Android devices using NuVo's Control App. Other common features include Audyssey Dynamic Volume to eliminate unexpected volume spikes, gold-plated binding posts for connecting a pair of speakers, a USB (Type A) port for playback from a thumb drive or laptop, a minijack input for analog hookups, and a minijack output for connecting an additional amplifier or powered subwoofer. System setup is also done via the Control App, which uses a wizard to walk you through a three-step process.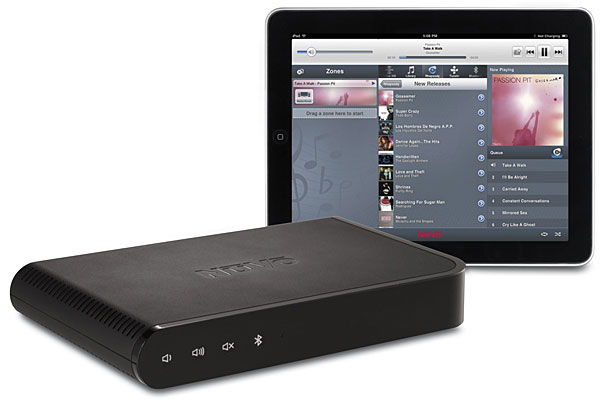 The system relies on dual-band 802.11n Wi-Fi and MIMO technologies to transmit all those simultaneous streams as efficiently as possible. The gateway, which has a claimed range of approximately 300 feet, continuously sends out audio streams on the 2.4- and 5-gigahertz bands so you can select the one that offers the best reception when you set up a player. MIMO, which stands for Multiple Input Multiple Output, uses multiple smart transmitters and receivers—instead of just one or two—to increase data transfer speeds. Watch for our review.
NuVo Technologies • (866) 796-4904 • nuvotechnologies.com