Nucleus Demonstrates 21st Century Intercom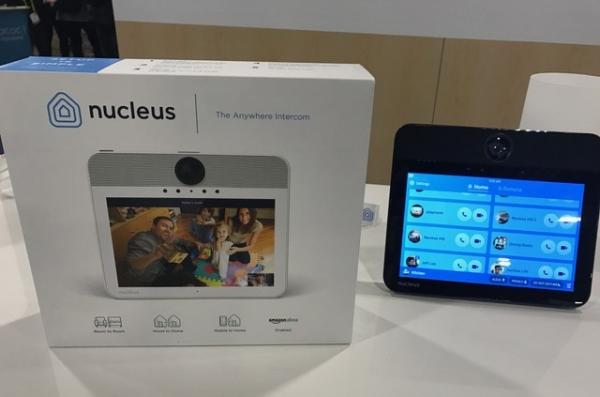 When you think "intercom" you probably think of that large, clunky, multi-buttoned contraption that took up like three-free of real estate in your parent's kitchen that no one really knew how to use. In fact, if there is one "technology" that has been sorely overlooked by progress, it is the lowly intercom. Nucleus looks to help keep families in touch no matter if they are on the other side of the home or the world with its Anywhere Intercom which adds and HD video camera and IP communication to the mix. It also happens to be the world's first touchscreen device with Amazon Alexa built-in.
Designed for simple set-up and installation, the Anywhere Intercom can run off AC power or use Power over Ethernet (PoE). It comes with a tabletop stand or wall-mount bracket, and uses a 9-inch screen with 1280x720 resolution for clear, HD video chats, and connects to the network via wired or Wi-Fi connection. An unlimited number of units can be linked to an account, so you can connect to systems all over the world, easily allowing you to call the kids to dinner, check in on the sleeping baby, or video chat with family across the country. The Anywhere Intercom also supports group chat, letting you have a simultaneous conversation with up to four other stations.
When not at home, you can remain in touch with one-to-one video chats using the iOS or Android app. This not only allows you to check in on your home remotely, it greatly simplifies multi-platform conversations for tech-challenged family members (Hi, mom!) for whom explaining Skype or some other service might be too complicated.
Equally cool is the Amazon Alexa integration which lets you use the built-in microphone to engage Alexa to perform a variety of tasks. The intercom's speaker can be used for Alexa responses or music playback as well. And with more companies adopting Alexa integration, the Anywhere Intercom can be a perfect hub for central voice control and interaction.
The Anywhere Intercom is available now and costs $249 when purchased singly, or $199 when purchased in multiples. To learn more about Nucleus, click here to visit the company's website.