NIMH Isn't Disney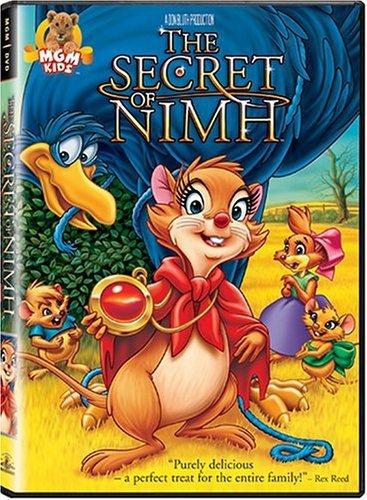 It's no secret to readers of my blogs that I'm a big fan of animation. But when I tempt friends visitor with a range of movie options, none so far has picked an animated title. That's no surprise. Most adults view an animated feature film as a "cartoon," suitable for kids but an odd choice for anyone over twelve.
True, many animated features fall into the kiddie-centric category. Disney has generally walked a fine line here, producing animated films that adults can also enjoy. Yes, I'm saddened by much of what Disney is up to these days, including buying up every movie-related company in sight, reimagining its own classic animated features into less than compelling, live action releases, and pricing its theme parks out of reach for many families. Nevertheless, that hasn't stopped me from buying the disc versions of most Disney animated features—including Disney-Pixar titles. (No, apart from new titles generally scheduled for review, we don't get the freebees magazines did in the early days of DVD and later Blu-ray, when a flood of studio releases turned up every month, hopeful for a review with each new title screaming, "Pick Me! Pick Me!")
But in an even earlier era, and long before the CGI animation revolution, a number of Disney animators quit to go off on their own. It was the late 1970s, and Disney, they felt, had fallen into a rut, resisting new animation techniques and failing to adequately train new animators. Their leader was Don Bluth, and while the efforts of his nascent company were only modest successes at best over the years, they did leave us with one title that deserves to be remembered as a genuine classic: The Secret of NIMH.
I first saw NIMH, years ago and owned the Blu-ray disc. Inspired by a YouTube "Making Of" documentary (The Secret of NIMH (1982) Revisited) I resolved to watch it again. Unfortunately I couldn't find my copy, but with Amazon offering it a ridiculous $7, I bought it again.
Based on a 1971 Robert C. Obrien book, Mrs. Frisby and the Rats of NIMH (and for which Disney had declined to buy the film rights), the plot centers on an experiment at NIMH (the National Institute of Mental Health) in which a group of rats and mice accidentally acquire high intelligence. They escape and settle in the grounds of a farmhouse. Years later one of the mice, Mrs. Brisby, seeks the help of the rats to save her concrete block home that's about to be destroyed by the farmer in his spring plowing. She can't just move because one of her four children is deathly sick. (The book's Mrs. Frisby was changed to Mrs. Brisby to avoid a possible legal tangle with Wham-O and its copyrighted Frisbee!)
It's an unusual story for an animated film, but intriguing and often magical. The star of the show is its gorgeous animation. While it can't compete with the smoothness of modern CGI, the carefully conceived artwork, in both the characters and backgrounds, more than make up for it. The motion of those characters was a little jittery compared to newer animation, but turning on the display's motion compensation (something I generally avoid like the plague) helped with this at the cost of raising the soap opera effect only when the image was "panned."
I've seen critical reviews of the video on this disc, but I disagree. It's far better than one might expect from a 40 year old near-classic that hasn't been restored in any obvious way. Yes, I'd love to see a re-release of this film in 4K and HDR, but that's highly unlikely. In any event NIHM's vibrant color and its contrast between bright highlights and dark shadows were never disappointing. It was so long ago that I saw this film on that now missing first Blu-ray that can't recall the display I used then. But it certainly didn't match what I viewed this time on a modern OLED.
The sound was good but not quite up to the level of the video. The quieter scenes, including the more subtle elements in Jerry Goldsmith's superb score, often produced striking immersion, particularly when 2.0 DTS HD Master Audio soundtrack was enhanced with overhead effects. Yes, you read that right. It's a 2-channel track, but the Neural surround simulation in my resident Denon AVR did a surprisingly good job in convincing me, at times, that I was listening to 5.1 plus overheads. But in the louder scenes, particularly when accompanied by heavy brass, the music was marred by harshness. If I were rating the disc's technical chops as we do in our printed reviews, I'd give the picture a rating of 4.0 and the sound ranging from 4.0 to 3.0—the latter for those aggressive passages.
The vocal work is excellent as well, particularly Dom Deluise as the nutty crow—the film's main comic relief. His scenes are often interjected just as the film threatens to turn a bit too dark for the G -rated members of the audience. In brief but important roles, John Carradine as the owl and Derek Jacobi as Nicodemus, the wise head of the rats, are also standouts. Trekkers will be particularly surprised to learn that the voice of one of Mrs. Frisby's children is Wil Wheaton, years before he grew old enough to bring young teen angst to Star Trek: The Next Generation.
The extra features here include a Secrets Behind the Secret featurette, a trailer, and a commentary track by the film's producers, Don Bluth and Gary Goldman, offering extensive detail on how the animation was done. Commentary tracks were common when this Blu-ray was released a decade or so ago but are rare today. Listening to this track is well worth your time, particularly if you're an animation fan (and if you've read this far, that likely means you!).