NHT Classic Four Speaker System, Controller Pre/Pro, and Power5 Amplifier
Hearing is believing.
Buy a new Corvette, and you won't have to study the car zines to figure out what brand of V-8 you'll need to install under the hood. Every Vette comes with a maxed-out Chevy engine, transmission, and chassis, so all of the parts work together in one finely tuned road machine. Assembling a home theater audio system from different brands' speakers and electronics might be a bit more complicated, but it's really not that big of a deal. Even so, the synergies that a single-brand home theater audio system can afford are obvious, and I really think this new, more holistic approach might turn out to be one of the most promising trends in consumer electronics. I had my first glimpse of that future when Now Hear This (NHT) unveiled their first integrated electronics and speaker system, the Xd, in 2005. For that project, NHT joined forces with DEQX, a leader in digital speaker-correction techniques, and PowerPhysics, a top developer of digital power amplifiers. More recently, Vinci Labs acquired NHT and immediately collaborated on development for the Controller surround processor and the Power5 and Power2 amplifiers.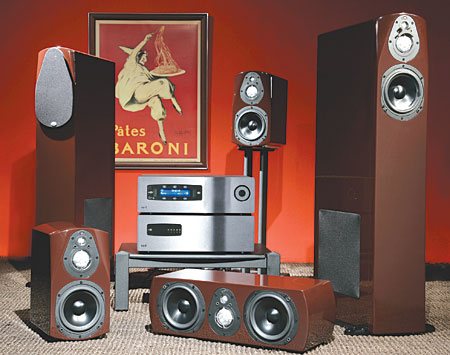 NHT's engineers next rolled out the Classic Series speakers. I have to admit, the name initially threw me off track. I've admired NHT's speakers for 20-something years, and the Classics' sound was anything but classic NHT. The brand's "house sound" was more forward and tonally lean; the new Classic's sound is laid-back, with a fleshier balance. I don't know; maybe New Classic would have been more like it.
I was inspired by NHT's system approach, and I couldn't wait to get my hands on the Classic Four system. It has all the new stuff, including a pair of Classic Four towers, a Classic Three C center speaker, a pair of Classic Three monitors, and the Controller processor and Power5 amplifier. It's a five-channel system, but you can readily expand it to six or seven channels with the addition of the Power2 stereo amplifier ($1,200), plus an extra couple of Classic Threes—or maybe the smaller Classic Twos, Absolute Zeros, or possibly NHT's in-wall or in-ceiling speakers. Did you notice I have not mentioned a subwoofer? NHT apparently thinks the Classic Four system doesn't need one. I've heard that claim before, but this time it may be for real.
Look Ma, No Buttons!
The Controller's front panel is free of the usual parade of processing logos—and there's not a single hard button or protruding knob. The large, easy-to-read LED display imparts information about source selection, surround mode, setup, and so on. To the right, you'll find a touch-wheel volume and navigation control. Six touch-select buttons frame the display and provide a variety of functions, depending on the display's status. HDMI 1.1 switching is available for two sources, and kudos go out to NHT for being one of the very few manufacturers committed to offering an upgrade to HDMI 1.3 when it's available. The built-in AM/FM tuner is a nice touch that many surround processors do without.
The Controller has a unique feature that NHT has dubbed the Speaker Wizard. It's in the pre/pro's setup menu, and it automatically provides preset bass management, equalization, phase settings, and low- and high-pass crossover filters for a wide range of NHT speakers. It will eventually have the software to accommodate every NHT speaker ever made. It's a remarkably comprehensive system, and it's wonderfully easy to use. But don't for a second think the Controller and Power5 are so NHT-centric that you cannot use them with great success with other brands' speakers—they're not.
The Controller's remote control took me by surprise; the little silver and black plastic thing looks like a refugee from a cheap HTIB. Its ergonomics aren't so hot, the volume and source buttons are awkwardly placed, and it's not backlit. And did I mention that it feels cheap? I guess NHT assumes most buyers will ditch it and buy a programmable remote. I would, but it's a shame I feel that I'd have to.
The matching Power5 is a Class D (switching) amplifier with a relatively compact and lightweight design. It incorporates the latest Bang & Olufsen ICEpower amplifier modules, which have been used in a number of pricey, high-end amplifiers. This five-times-200-watt amp never got hot or even slightly warm during my use.
In addition to the Speaker Wizard, the Controller has an auto speaker-setup program, but I used the manual setup. I noticed that, as the test tones were playing over the speakers, the Classics' timbre matching was near perfect. A lot of brands claim their speakers are timbre matched, but, in actuality, they're not. The Fours, Threes, and Three C sounded remarkably similar. My biggest operational complaint was that, whenever I skipped chapters on a DVD, the Controller's sound cut in and out for a fraction of a second before continuing.
The Controller and Power5 communicate via the NHTBus cable, so, for example, when you're listening in stereo, the amp automatically shuts down the unused channels.
Modern Classics
The Classics' beautifully chiseled shape looks expensive. When I started the review, I hadn't yet learned the system's prices and thought the Fours went for about $2,500 per pair, but they're $1,800. And, when you figure in the Fours' deep-bass capabilities and the possible elimination of the need for a subwoofer, $1,800 starts to look like an incredible deal. The Classic Four is a four-way design with a 0.75-inch dome tweeter, a 2-inch dome midrange, a 6.5-inch woofer, and a side-mounted 10-inch subwoofer. The Classic Three monitor is a three-way design that utilizes the Classic Four's top three driver configuration, and the Three C is a three-way center with similar drivers, but it has two 6.5-inch woofers. The drivers all have aluminum diaphragms, by the way, and are new NHT designs. You rarely see this sort of dual-dome (tweeter and midrange) arrangement anymore. Most midrange drivers are cone shaped and paired with dome tweeters. Based on what I heard, the dual-dome approach works wonders for imaging precision.
The Classic cabinets feel rock solid; wrap your knuckles on these brutes, and all you'll get are sore fingers. The top section's curves flare back, minimizing image-smearing diffraction effects. Naturally, as with just about every NHT speaker I've ever seen, the Classics are available with a high-gloss black finish. However, my samples were decked out in what NHT calls Special Dark, a reddish-brown, chocolaty hue. I'd definitely go for that finish in my room.
The room-shaking abilities of the Classic Four's 10-inch woofer appeared to extend well into the mid-30-hertz range in my large home theater. I'd recommend starting out subwooferless, and then, if you want a little extra kick, biamp the Classic Fours with NHT's X1 crossover ($350) and A1 outboard amp ($400). If that's still not enough shake and quake, pick up a Classic Ten or Classic Twelve subwoofer ($600 and $850 each, respectively). Obviously, if you're planning to assemble a system with the smaller Classics, you'll definitely need one of the subs.
Hear This
As I said, NHT's "house sound" has changed from what I remember in the past. At first, the treble seemed a trifle reticent. But it's all there, even if reduced in level a bit, and it's exquisitely refined. The Classics' dynamics are similarly easygoing, with no strain or compression. Want to crank Aerosmith loud enough to make your ears threaten to bleed? No problemo. The Classics love volume the way a Dodge Viper SRT10 loves speed. And I'll admit it: Playing music at near realistic volume is a real kick. That's rarely possible with smaller speakers, but, when I get to play with the big guys, it's tons of fun.

The imaging is spectacular in its scope and room-filling dimensions; the Classic speakers' image height, width, and depth approach what I've heard from the better electrostatic and flat-panel speakers. But electrostatics can't generally deliver the Classic Fours' dynamics and room-shaking bass. Their broad tonal palette is on par with some speakers that sell for more than double the Fours' price.
On the other hand, I'm not so sure about the Speaker Wizard's effect on the sound. I listened both with and without it over the course of a day, and my impression was that the Wizard's cooler tonal balance goosed the Classics' detail; but, to my ears, it was too much of a good thing. That said, in a different room or acoustic setting, the Speaker Wizard might be the cat's meow. Try it; you may like it.
I've been into horror movies lately, and I keep coming back to The Ring, the first and arguably the best of the two installments. It's super creepy and chock-full of unsettling noises and the sound of bubbling liquids. But it's the scene on the ferryboat that literally makes me jump up from my couch. Naomi Watts approaches a fellow passenger's horse, and the animal goes flat-out berserk, breaks out of its stall, gallops around the boat, and jumps overboard. Yikes! The Classic Four's low bass was deep enough to communicate the unbridled horsepower of the scene. The NHT ensemble's visceral sound is just plain scarier than any sub/sat system I'm familiar with could ever hope to muster.
The remastered DVD-Audio disc of David Crosby's If I Could Only Remember My Name is a trip to the outer fringes of hippiedom, circa 1971. Supported by a slew of fellow travelers from the Grateful Dead and Jefferson Airplane, Crosby made a perfect musical time capsule. The surround mix knocked me out, but, even in stereo, the sound possessed a flesh-and-blood natural quality.
The Pixies Acoustic: Live in Newport DVD's unplugged vibe is a nice contrast to the band's usual electric edge. The warm blend of guitars and Kim Deal's bass guitar sounded sweet, and, now that I can hear every word in Frank Black's twisted lyrics, they're even weirder than I had thought. The Classics' sound kept surprising me, especially when I played my reference discs, stuff I've heard on what seems like a billion systems. My respect for Lucinda Williams' Live @ the Fillmore CD kicked up another notch. There was something about the yearning in her voice that really touched me. The low-level detailing and the ability to hear the concert-hall acoustics were extraordinary. Yeah, the system's powers of persuasion were clearly working their magic.
Just to convince myself that the sound wasn't just a magical synergy between the NHT speakers and the electronics, I hooked up a $1,500 A/V receiver to the Classics, and their sound still shone through. It was very sweet, big, and powerful but nowhere as transparent, and the bass definition loosened up a smidgen. Still, it's hardly a fair comparison—a $4,750 surround-processor/power-amp combination should sound a whole lot better than a $1,500 receiver. I guess it all comes back to the maxim that the whole is greater than the sum of its parts, and, in this case, the parts are plenty outstanding on their own. The Classic Four system takes it to another level.
Highlights
Classic Four Speaker System:
• Love the new curvy look
• Best-ever sound I've heard from NHT