NFC- Not Just For Smartphones Anymore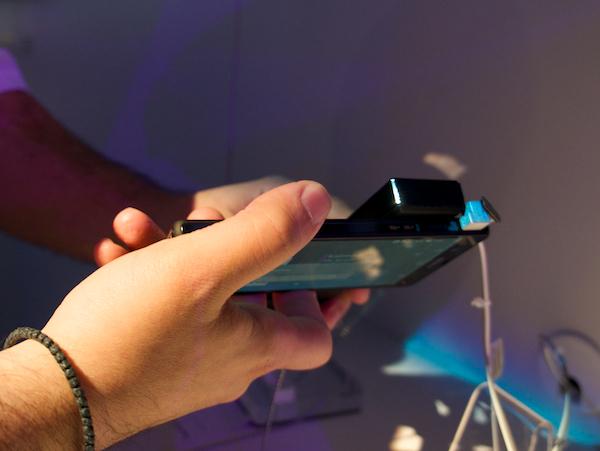 Near Field Communtications (NFC) has come to home theater and a myriad of other smart appliances. NFC is the feature where you tap two android phones together (both must have NFC) and it will transfer full playlists, photos, and more, instantly. A number of manufacturers, including Samsung and Sony, showed NFC-enabled TVs, Blu-ray players, and media servers, where you only need tap your phone against them and instantly stream photos, music, and videos to the device.
Sony's media server device called the "Personal Content Station" has 1 Teryabyte (TB) of storage. Users can automatically begin transferring the most recent photos and videos taken from a phone to the Personal Content Station by tapping or hovering their NFC enabled smartphone over the "n" mark on the Personal Content Station. Sony's new TVs can make an NFC connection by tapping on the TV's remote control (as seen in the photo here).
LG showed a TV and a screen on a refrigerator that could likewise stream media from a smartphone.
Router manufacturer, Linksys, is using NFC for another function. Each new router ships with an NFC smartcard. Simply tap the card on any Wifi device that has NFC, and the device is instantly connected to the router and Wifi home network. Certainly it's much easier than running to another room to press a WPS button on your router when automatically setting up Wifi on Smart TVs and Blu-ray players.
NFC is only available on some Android devices, and is not available on iPhones or iPads. Apple can't hold out much longer from offering NFC on their devices.
LATEST VIDEO