New Sonos Amp Is a Wireless Wonder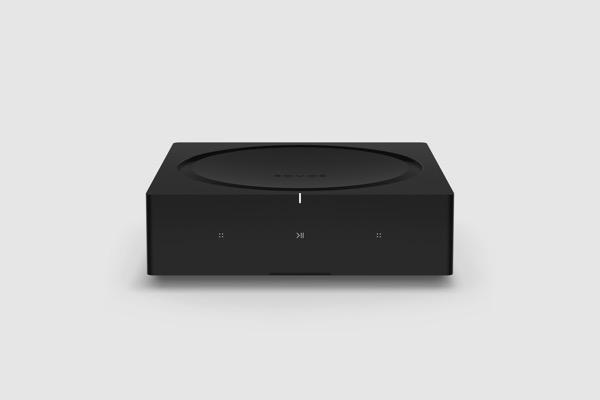 Less than a week before the
CEDIA Expo 2018
is set to begin in San Diego,
Sonos
has taken the wraps off of the company's all-new
Amp
. Replacing the
CONNECT:AMP
, one of Sonos's earliest products (originally called the ZP120) that has been in its lineup for 12 years, the Sonos Amp is more than twice as powerful (125 watts per channel) and features an entirely revamped design—both on the inside and the outside—enabling it to be used in more custom applications (including powering up to 4 speakers in stereo or mono, a feature often requested by custom integrators) and within more decors (as well as AV racks) than its predecessor. In addition to more power, Amp also includes an HDMI ARC port and a line-level analog stereo input. The Sonos Amp utilizes the Sonos software platform, making it fully compatible with existing Sonos speaker systems, or it can function as a standalone integrated streaming amplifier. It supports Apple AirPlay 2 and more than
100 streaming services
.
I visited the Sonos headquarters in Boston, MA, earlier in the month for an in-depth, first-look at Amp as well as insight into Sonos's strategy to provide more custom integration-friendly product designs along with continuing (free, by the way) updates to the Sonos software platform to make it easier for installers to incorporate Amp into a wider variety of existing and new systems. Explaining this new focus on integration, Sonos CEO Patrick Spence said, "The growth of the Sonic Internet—the convergence of paid streaming, the smart home, and artificial intelligence through voice technologies drives everything we do at Sonos. While plug-and-play options like Sonos Beam and Sonos One are an important part of the equation, architectural sound and making it even easier to integrate with lighting and home control are equally as important. We've listened to custom installers and dealers to create Amp, a versatile product designed to be at the center of the smart home sound experience."
As a bow in their direction, Amp will be available to professional installers in the US and Canada starting December 1, 2018. The Amp won't launch globally until February 2019. The Amp will also be available for purchase by consumers directly from Sonos for $599.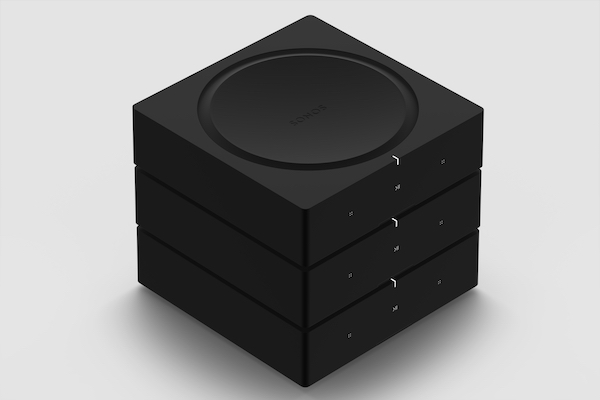 For those familiar with the old-school, Apple-inspired exterior of the CONNECT:AMP, the striking physical appearance of the Amp's chassis will be a surprise—and I think it's a pleasant surprise, too. The dimensions (WDH, in inches: 8.54 x 8.54 x 2.52) were engineered, in part, to make the Amp easier to install into AV component racks (two per shelf). Whereas the controls for nearly all of the other Sonos speaker systems are located on the "top" of the cabinet, the touch controls for volume up/down, previous/next track (music only), and play/pause—as well the dimmable LED status indicator—are located on the smooth front panel of the Amp. When it becomes available to installers in December, the Amp will be available in matte-black finish only.
I found the Amp to look sleek and sophisticated—you've got to love the inlaid circle that covers the air vents on the top—but, for a tech nerd like me, the insides of the Amp are an engineering marvel. It's hard to believe Sonos was able to physically fit all of the components inside that small of a chassis. It's even harder to believe the performance of this condensed mass of electronics—a 125-watt/channel Class-D amplifier, an AV preamp with HDMI ARC, Wi-Fi, 2 ethernet ports, an auto-detecting subwoofer output with a 50-to-100Hz adjustable crossover, and all the computing power to handle the streaming connectivity and system control. In addition to the physical, however, is the physics: how in the heck do you cram that much inside such a small space without having tons of problems with electromagnetic interference?
We got the chance to step inside the RF testing enclosure (no tests were going on, fortunately), and see a bit of the research that goes into the Sonos secret sauce that makes the company's hardware perform so well. We were also allowed, under strict supervision lest we step on a cable or other crucial part, to wander inside the huge anechoic chamber where Sonos's acoustic engineers do all their acoustic measurements. (They have a smaller one, too, although we didn't get to see it.) I've been in my fair share of anechoic chambers, and this one is one of the largest I've walked into. It also included a proprietary, curved, multi-microphone array, of which the engineers were justifiably proud.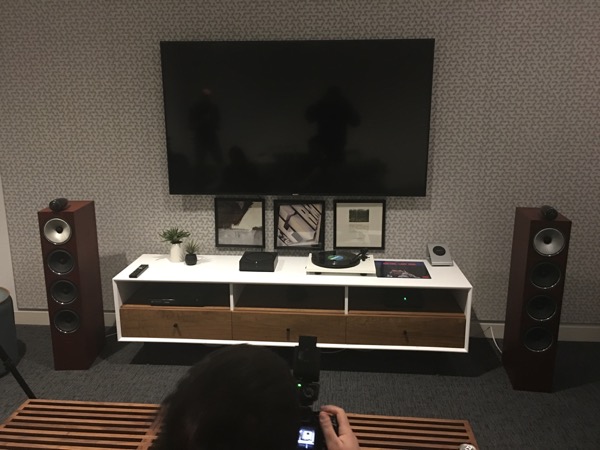 The most important part of my visit to Sonos HQ in Boston, however, was when we were able to listen to an Amp hooked up to a pair of B&W tower speakers in an average living room-style space. Regardless of the source material, the performance was fantastic; and you'd be hard pressed to find another integrated amp that sounds significantly better for under $600. By adding a rear pair of Sonos wireless speakers (I think they used a pair of Sonos PLAY:1s in the demo) or a second Amp with passive speakers—plus a subwoofer—you can create a (mostly) wireless 4.1-channel surround system. During the movie demos, two things surprised me. First, unless you were way off to the side, you couldn't tell the system lacked a dedicated center channel speaker. Second, the seamlessness of the surround effects with the front soundstage was remarkable.
By the way, Sonos included an HDMI ARC (Audio Return Channel) port in the Amp in order to make it super-easy to use as a standalone TV speaker upgrade that can operate independently or as part of a larger whole-house Sonos speaker system.
Other announcements from Sonos included the formation of a new partnership with Sonance, in which the two companies will jointly design a line of architectural speakers specifically for use with the Sonos Amp. The advantage of this partnership is that, since Sonos will have all of the speakers parameters, installers will be able to use the company's Trueplay acoustic room tuning capabilities on rooms using the Sonos Amp with the new Sonos/Sonance speakers. No info was available regarding pricing. Availability is expected "sometime next year."
Another announcement dealt directly with developers and integrators and covered the company's developer platform and Control APIs:
Starting in early September, Sonos will further evolve the developer platform by fully opening up to all potential partners and will also add a new set of Control APIs, making it easier than ever to integrate Sonos into the smart home.

The platform will continue to expand with new APIs that allow partners to innovate on their integrations with Sonos. New Control APIs and features make the experience better for customers, especially those with integrated control systems, such as Control4 and Crestron.

These include:
• Line-in switching (for both analog and home theater), to allow for line-in components to be selected within the third-party control interface
• Volume pass-through for easier and more predictable volume control
• The ability to add Sonos playlists within a third-party interface
• In an early preview phase, capabilities to provide notifications and alerts from third-party devices, like a doorbell, through Sonos speakers. Sonos will invite partners to get certified and earn the "Works with Sonos" badge. The badge will signal to Sonos owners that companies building and innovating on our platform deliver experiences that meet the Sonos high bar for quality. For those interested in building on the Sonos platform, check out the developer portal.
No doubt we'll be getting a Sonos Amp review unit as soon as they're available. Stay tuned.