Panasonic Announces 4K Blu-ray, New Flagship UHDTV, and the Return of Technics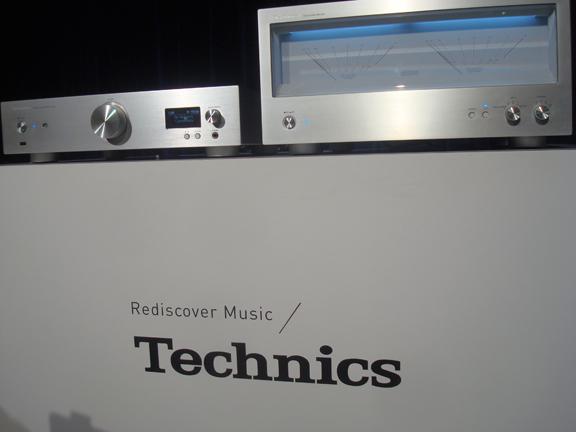 The first announcement of a 4K Blu-ray player and the return of the storied Technics audio brand, along with word of a new flagship UltraHDTV, were the big headlines for AV enthusiasts at Panasonic's CES 2015 press conference this morning in Las Vegas.
Virtually nothing was shared about the Blu-ray player in Panasonic's press event other than it's imminent arrival later this year and the display of a prototype that sent reporters clamoring for a glimpse and a photo. We will report whatever details are available after the show opens tomorrow and the non-descript box returns to Panasonic's sprawling exhibit space in the Central Hall.
Of great interest to audiophiles was the announcement that Panasonic's classic Technics brand would return to the North American market later this spring in the guise of two new product series. The Reference R1 Series will offer an integrated stereo amplifier, the SE-R1, that offers modern digital enhancements in a product that truly beckons back to the 1970s with giant VU meters and silver styling. It'll be joined by the SU-R1 network audio player and SB-R1 floorstanding speaker system. A second, more affordable Premium C700 series will offer up a smaller integrated amp (SU-C700), a network audio player (ST-C700), a CD player (SL-C700), and a bookshelf speaker system (SB-C700). Pricing and final availability will be announced later.
A new flagship Ultra HDTV, the CX-850 series, will be available in 55- and 65-inch sizes as the TC-55CX850U and TC-65CX850U. Among the features: a new panel with enhanced color space said to be 98% of the DCI specification, a sophisticated color correction system that takes into account all primary and secondary colors and adjusts color brightness to bring out color detail in dark scenes, and a new "Local Dimming Pro" backlight system to improve black levels. It'll be THX certified, and has a new Firefox OS interface designed by Mozilla to provide easier access to streamed and networked content. Pricing and availability will be announced later, Panasonic says.