New Apple TV Will Have Siri and Apps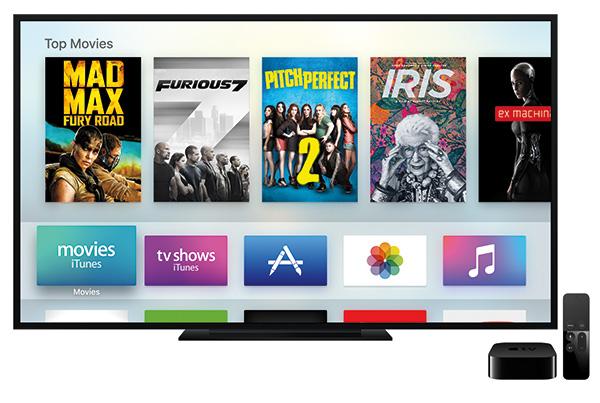 At Apple's fall event, the company revealed its new Apple TV will be released in October. The big news in the latest generation of the Apple media player is about its new operating system and the ability to add apps, including games, in the same way that apps are added to iPhones, iPads, and Mac computers. Siri voice control is also among the new features.
The new model's home screen doesn't look dramatically different from the previous generation's grid of entertainment apps. But the new apps extend beyond entertainment and will be open to developers to bring apps normally found on iPads and iPhones to the big screen. The new platform is called "tvOS." One of the mobile-type apps that was demonstrated includes a weather app, while the GILT app makes it possible to shop directly from Apple TV.
Apple Music streaming will become available on the new model which will include suggested music and playlists. In the demonstration, Apple music continued to play over the home screen, which suggests that it might be possible to play music over photo slide shows.
A new remote control and Siri Voice Control will change how users interact with the new Apple TV. The top half of the remote is a capacitive glass touch surface. Swiping on the surface is a similar experience to swiping an iPhone touchscreen. Slow finger gestures move from one title to the next while broad sweeps move across pages of app icons or movie/music cover art. The touch surface appears to be particularly useful at controlling video playback as it offers precision in finding the specific scenes. A thumbnail of the scenes appear above the scrub bar to indicate where you are in the video. Video playback can also be controlled by Siri, which is accessed by holding down the microphone button on the remote.
The Siri demonstration was impressive. Users will be able to indicate how far to fast forward as in "Skip ahead seven minutes," for example. Asking Siri, "What did they say?" will rewind the video 15 seconds and play it back with closed caption subtitles.
Like Google TV's search, Siri is supposed to understand plain English search questions. The demonstration included telling Siri, "Show me some action movies." A list of action movies appeared across the bottom of the screen so results could be shown without interrupting a currently playing video. Subsequent requests, "Just the James Bond ones," and "Just the ones with Sean Connery," further narrowed the field of titles.
Search results will go beyond iTunes to include movies and TV shows on Netflix, Hulu, HBO, and Showtime. Clicking on a result brings up a full product page of information about the movie or TV show. From there, a user can click the info button or tell Siri to play the video.
Sports apps will include live feeds. A demonstration of the MLB (Major League Baseball) app showed how a user can swipe down during a live feed to get full stats on the game in progress. When notifications are set up in the app, a user can click on another game to switch between the games or watch them side-by-side with stats for both games displayed. The MLB app will be available on the Apple TV at launch with the NHL hockey app becoming available in 2016.
Game play is also coming to the Apple TV. The popular Crossy Road mobile game will become available on the big screen through a new Apple TV app. To play games, users will tilt, swipe, swing, and otherwise fling around a remote control equipped with an accelerometer and gyroscope. Crossy Road will offer multi-player capabilities. Additional players will be able to use their iPhone or iPod touch to control onscreen characters. A cooperative play mode makes it possible for players to team up. Other games announced include a workout app that pairs with Apple Watch and a lineup of Harmonix games (maker of Rock Band and Guitar Hero).
The new Apple TV sports improved hardware. While the last generation included an single core A5 chip, the new processor has been upgraded to the dual-core 64-bit A8 chip used in last year's iPhones and iPads. The new chip should make navigating and playback smoother and quicker. The upcoming Apple TV includes Bluetooth 4.0 (low energy Bluetooth smart technology) and connects to 802.11 AC for faster streaming speeds. It is equipped with HDMI CEC for turning on and switching inputs on the TV or AV receiver as well as controlling volume on connected home theater gear. While it will offer Dolby 7.1, it will not be 4k capable.
As expected, the price is higher than previous versions but not outrageous. The starting price is $150 for a version with 32 GB of memory, while the 64 GB model will go for $199. None of the features are revolutionary compared to other media players—the Nvidia Shield plays games, touch remotes aren't new, Android TV has apps, Fire TV and Android TV can search multiple apps for movie titles—but putting it all together in the Apple ecosystem is enough to make it worthy to check out. If only it had Spotify music…