New Apple HomeKit-enabled Caseta Wireless Smart Bridge from Lutron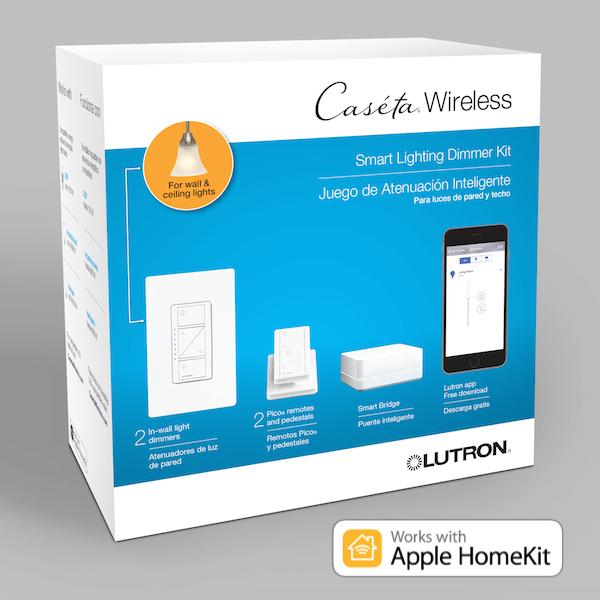 Get ready for the onslaught of
Apple HomeKit
support announcements. Lutron Electronics announced today that the company's new 2nd generation
Caseta Wireless
Smart Bridge DIY home lighting automation hub now supports Apple's HomeKit. The new Lutron Smart Bridge (L-BDG2-WH) is available now in Apple stores and from numerous other retailers 
and online stores as part of the Caseta Wireless Lighting Starter Kit for $229.95.
At the moment, the most significant advantage of the Caseta Wireless Smart Bridge's support for Apple HomeKit is that homeowners will now be able to control lights in specific rooms or areas using voice control through Siri, including the "Hey, Siri" command. Lights can be grouped and zoned, as well as configured by the user in "scenes" involving different lights at different illuminations.
Siri isn't the only way to control Lutron Caseta wireless dimmers. The primary user interface is through the free Lutron App for Caseta Wireless. The app is available for both iOS and Android devices, although HomeKit support is only provided via the iOS version. HomeKit support and Siri integration, however, make it extremely easy to initiate global commands, such as "Turn the house lights off" at night when going to bed—rather than having to pick up your iOS device, load the app, navigate to the correct page, and press the appropriate button. Siri can also be used to check on the on/off status of lights controlled by Caseta Wireless dimmers.
Lutron's Serena Remote Controlled Shades can also be used as part of the Caseta Wireless ecosystem. Although HomeKit doesn't currently offer direct control of window shades, Lutron says it expects 3rd party HomeKit apps will be developed that will allow control of wireless shades and other home automation devices (door locks, thermostats, and irrigation systems, for example) with HomeKit support.
Owners of 1st generation Caseta Wireless Smart Bridges will have to upgrade to a new 2nd gen Smart Bridge in order to take advantage of HomeKit support. All existing Caseta Wireless dimmers and remotes, as well as Wireless Serena shades, are fully compatible with the new Smart Bridge.
The $229.95 Caseta Wireless Lighting Starter Kit includes one Caseta Wireless HomeKit-enabled Smart Bridge, two Caseta Wireless in-wall dimmers, two Pico remote controls, and two pedestal mounts for the remotes. Additional Caseta Wireless kits that include a single dimmer and one remote control are also available for $59.95.
Lutron's Caseta Wireless Smart Bridge is joined by the new HomeKit-compatible 2243-222 HUB PRO ($149.95) from Insteon, which is available now. Devices from Ecobee, iHome, and Elgato have also been announced but are not yet shipping.