Netgear Nighthawk X8 Can Handle 4K and Double Transfer Speeds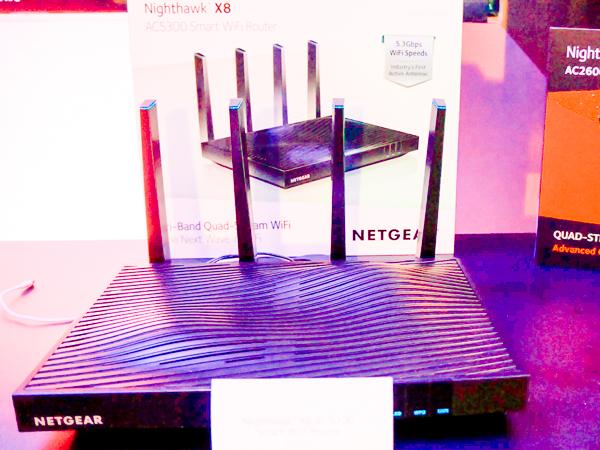 Netgear's Nighthawk X8 AC 5300 (model R8500) router is impressive at first look with an undulating case with antennas lit by blue LEDs. It won't be long before we are streaming 4K to more than one TV while connecting to the internet on several mobile devices wirelessly. This router can handle the load
This year's routers have more than double the capacity of AC routers from just two years ago. The X8 can handle 5.3 Gbps on three bands. This allows a massive amount of data to flow to devices—whether it is several smartphones and tablets, or 4K HDR video with surround sound. Perhaps now screaming internet speeds won't be bottlenecked by a router.
While most routers have four ethernet local area network (LAN) ports to directly connect devices, Netgear's AC5300 router has six ports. It has room to connect network bridges required for music or home automation—Philips Hue, Sonos, Insteon, etc.—as well as network storage (NAS) drives. Two of the ports can be used with Netgear's newest NAS drive, the "ReadyNAS214." The revolutionary aggregation design can bond the data flowing from two of the gigabit ports and connect them to their NAS. This doubles the flow of information. Anyone who has had to copy a media library of 4K (or even high definition) videos, thousands of FLAC songs, or thousands of RAW photo files, will welcome this feature. The router also has "active antennas." To get fast WiFi on a device, it must send a signal to the router and many phones, tablets and media players have weak signals. By moving the receiver from the main board to the antennas, the router can receive a very weak signal while maintaining excellent performance needed to send out data.
The Nighthawk X8 AC5300 went on sale in October 2015 and can be found online for $349 (MSRP is $399).